Barbara Garcia-Lavin, Ph.D.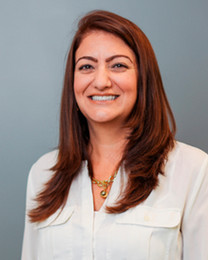 Associate Professor
Full-Time Faculty, Department of Clinical and School Psychology
Adjunct Professor
Part-Time Faculty, Department of Counseling
(954) 262-7917
garciala@nova.edu
Office: Maltz 1077
Education:
Ph.D. Nova Southeastern University
M.S. Nova Southeastern University
B.S. University of Miami
Professional Interests
Barbara Garcia-Lavin, Ph.D., is a licensed psychologist who directs both clinical doctoral programs within the College of Psychology. She is co-editor of the Association of Psychology Postdoctoral and Internship Centers (APPIC) Directory Online, member of the APPIC Diversity Committee, and internship site visitor for the American Psychological Association. Her clinical, teaching, and research interests are in the areas of Psychological Assessments and Evaluations, Autism/Developmental Disabilities, Special Education, and Supervision and Training. Specific research includes assessment strategies for pre-transplant organ list inclusion, diagnostic assessment of Autism Spectrum Disorders, and assessment of psychology trainee competencies.
News and Events