Learn about the Brain from Experts in Neuroscience
What do gene editing, cockroach legs and cow eyes have in common? They are parts of activities that you would participate in as a Neuroscience major. From the moment you start Nova Southeastern University's B.S. in Neuroscience program, you'll be part of a dynamic, research-focused group of students and faculty. And as an NSU student, you'll have access to one of the largest and most advanced research facilities in Florida—the Center for Collaborative Research—and it's right on NSU's campus!
Neuroscience is the study of the brain and its role in behavior and physiology. This multi-disciplinary degree integrates psychology, biology, physics and chemistry to provide you with a foundation to pursue advanced degrees and careers in the fields of medicine, dentistry, veterinary services, physical therapy, occupational therapy, psychology, nursing and more. NSU gives you the edge to break new ground and prepare for success.   
Why Should You Major in Neuroscience at NSU?

As an undergraduate student, you'll conduct joint research with faculty and graduate students and have opportunities to present at national conferences

NSU's neuroscience program emphasizes the role of genes in human health and behavior, preparing you for the growing field of personalized medicine and recent emphasis on translational research (from the bench to bedside)

Join NSU's neuroscience organizations such as Nu Rho Psi, Neuroscience Club or Phi Kappa Phi

Participate in NSU's Clinic Exploration Program, which offers opportunities to shadow medical professionals on the job in many of NSU's medical and health clinics

Start your college studies before you graduate from high school with NSU's Summer Training Program
Previous
Next
NSU's Neuroscience Organizations
Center for Collaborative Research
The Center for Collaborative Research (CCR) is one of the largest and most advanced research facilities in Florida—and it's located on NSU's beautiful campus in Fort Lauderdale/Davie. As a neuroscience major, you'll have opportunities to conduct research in this 215,000-sq.-ft., state-of-the-art, facility. In fact, all neuroscience labs are taught in this building, which provides NSU students the additional benefit of access to preeminent international researchers.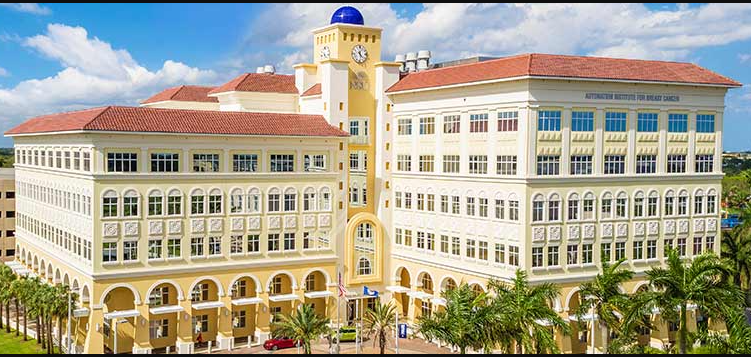 Neuroscience Faculty Experts
Your NSU neuroscience professors are expert scientists…who also know how to have fun. In fact, one of these professors would be happy to discuss how she would navigate a potential zombie apocalypse…
| | | | |
| --- | --- | --- | --- |
| Name | Expertise | Expertise | Expertise |
| | Hormones | Maternal-infant bonding | Serotonin and neuroplasticity |
| | Traumatic Brain Injury | Biometals  | Alzheimer's Disease  |
| | Anatomy and Physiology | Stem cells/Therapies | Stem Cell |
| | Aging and Dementia | Substance Abuse | Diet and Exercise |
| | Human Performance | Stress | Sleep and sleep deprivation |
Advance in Psychology, Pharmacology, and Medicine
With your neuroscience degree, you have career opportunities in almost any sector, from research and education to government, business and law. This broad interdisciplinary field qualifies you to pursue roles such as a physician, researcher, cognitive or behavioral psychologist, audiologist, and speech or physical therapist. NSU's neuroscience program provides you with an interdisciplinary education that will help you to think critically and creatively; these skills are valuable in any career.

Average Starting Salary
 According to a 2020 report from PayScale.com, graduates with a bachelor's degree in neuroscience make an average of $65,603 per year.

Shark Destinations
As an NSU Neuroscience student, you'll gain a strong foundation that will help springboard you into professional programs such as medical school, dental school and physician's assistant programs. Neuroscience graduates can also go on to Ph.D. graduate programs in programs such as Neuroscience, Psychology or Biology. Neuroscience graduates have also found employment in organizations such the Max Planck Florida Institute for Neuroscience.
During your undergraduate studies, you'll have a number of hands-on opportunities to gain real world experience.
Case competitions are one of our most popular opportunities for pre-health majors. A case competition starts with a fictitious or real "problem." Students then work individually or in teams to identify possible solutions and present them to a panel of judges. Each competition provides incentives for both the winners and participants, in addition to earning an ExEL unit credit.
The Clinic Exploration Program
The Clinic Exploration Program (CEP) offers students the opportunity to shadow medical professionals on the job in many of NSU's medical and health clinics. Program participants gain a broad perspective that shows how various medical fields work together and a practical, up-close review of several medical career options.
All undergraduate students may take part in CEP, no matter what major they pursue. Each rotation lasts two hours per week, for three weeks. Because this is a volunteer program, member commitments are flexible and voluntary.
Who Can Participate:
Any NSU undergraduate student in good standing who wants to participate in CEP must:
have a 2.5 GPA or higher
be registered for classes
complete OSHA and HIPAA trainings
be curious about various health professions
conform to scheduled assignments, dress codes, and other professional responsibilities
How to Enroll:
complete the Clinic Exploration Program Application
schedule and complete OSHA blood-borne pathogen safety training
take HIPAA Privacy and Security training
turn in completed application to program coordinator in Parker building, suite 367
Students are offered the opportunity to participate in CEP each semester. Registration for the program is open during the previous semester.
Participating Clinics:
Athletic Training
Audiology
Dentistry
Internal Medicine
Optometry
Osteopathic Manipulative Medicine
Pediatrics
Additionally, behavioral neuroscience majors enjoy exclusive internships at organizations like the Medical University of Graz, Austria, Georgia Association of Genetic Counselors, The Shore's Treatment and Recovery Center, Mailman Segal Center for Human Development, Scribe America, Heart to Heart Hospice, Indiana University Cooperative Center of Excellence in Hematology (CCEH), Journal of the Society for NeuroSports and America Reads America Counts.
Research
Students in the neuroscience major conduct research as part of their lab activities, independent study and internship in Neuroscience. The teaching labs are focused on discovery-based learning where students conduct their own experiments. Unique to NSU's program, many of our students publish in scientific journals or present at research conferences.
Max Plank Scholars
Some of NSU's Neuroscience students are invited to be "scholars" at the Max Plank Institute for Neuroscience. Part of this honor involves an all-costs covered invitation to attend the bi-annual "Sunposium" and meet with some of the most preeminent neuroscientists in the world.
Collaborations
Due to the interdisciplinary nature of the field of neuroscience, the NSU Neuroscience major has developed several internal research collaborations for both faculty and student research. Examples include collaboration with NSU's:
College of Health Care Sciences to investigate biomarkers of stress and performance in athletes,
NSU's Barry and Judy Silverman College of Pharmacy to investigate the role of angiotensin receptors on neurogenesis
NSU Halmos College of Arts and Sciences on a project that investigates the influence of sleep loss on the gut microbiome.
Institute for NeuroImmune Medicine on the role of biometals in Traumatic Brain Injury.
Reserve your seat in one of NSU's graduate or professional schools while you earn your bachelor's degree. With NSU's Dual Admission program, you don't have to worry about competing with thousands of other students for a spot in a highly selective graduate program. This Premier Program gives you an opportunity to get a head start on your career, so you can start earning sooner.   
Your NSU professors are dedicated to ensuring that you have a great academic experience. They regularly review the curriculum to make updates that give you an edge in today's ever-changing world. As an NSU Neuroscience major, some sample courses that you'll be taking include Biomedical Ethics, Philosophy of Science, Neuropsychology and Hormones and Behavior.