High school students test knowledge in quiz event
Game patterned after Jeopardy!
Nearly 40 high school students from across Broward County tested their psychology knowledge as part of the College of Psychology's 2018 NSU Brain Bowl.
The community outreach event began in 2017 as an initiative of the college's Department of Psychology and Neuroscience. Professor Jaime Tartar, Ph.D., and Associate Professor W. Matthew Collins, Ph.D., put out a call for participation to Broward high schools with students in Advanced Placement (AP) psychology courses. This year's teams represented Fort Lauderdale High School, Nova High School, and the NSU University School.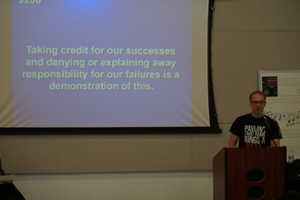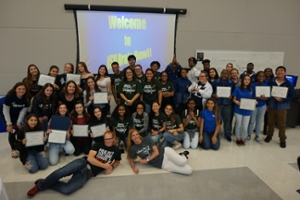 "We wanted to reach out to high schools in the community and have them come to NSU and share their knowledge," Collins said.
Collins hosted the two rounds of quizzes, which were patterned after Jeopardy! with multiple categories of answers and Daily Double bonuses. Questions in the pun-themed categories covered topics like biology, classical conditioning, and cognitive biases.
By the end of the Brain Bowl, Fort Lauderdale High claimed victory for the second year, followed in second place by Nova High and NSU in third place.