Students, faculty participate in research Data Blitz
Research projects described in one-minute presentations
One day in late September 2018, 20 students and faculty hurriedly rushed to the podium at the Don Taft University Center as part of the inaugural Data Blitz. Their goal: describe in just a minute a research project relating topics like sports, nutrition, neuroscience, and exercise science.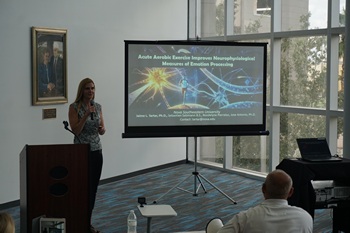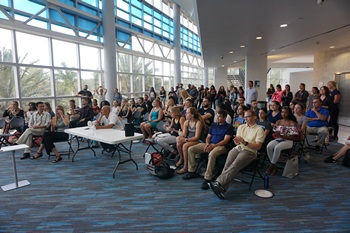 The event grew out of research collaborations on the effects of exercise on the brain between NSU's College of Psychology and Dr. Pallavi Patel College of Health Care Sciences. The College of Pharmacy also participated in the event.
"I think in research people sometimes have a tendency to stick with their silos," said Professor Jaime Tartar, Ph.D., of the College of Psychology's Department of Psychology and Neuroscience.
Tartar said the initial collaboration led to more due to the overlap between neuroscience and exercise science.
"It has benefited Exercise Science since it opens up doors to research questions that we typically have not been involved in. And of course it is a two-way street," said Associate Professor Jose Antonio, Ph.D., of the Department of Health and Human Performance in the Dr. Pallavi Patel College of Health Care Sciences.
With only a minute to work with, each presenter had to quickly run through PowerPoint slides. The high energy and quick pacing created a lighthearted atmosphere, Tartar said. For Antonio, the quick pace meant the presentations were to the point and showed that science could be fun.
Nine of the 20 presenters came from the College of Psychology. Topics included research into the effects of overeating peanut butter, the effects of intense training on swimmers, contact sports and the brain, and mindfulness.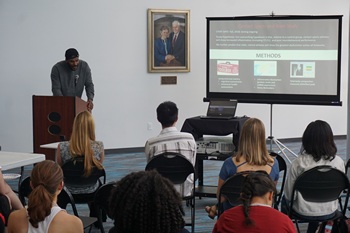 Tartar said the Data Blitz will continue as an annual event.
"It's good to cross disciplines and work together," Tartar said.
Antonio said partnerships between the colleges will continue, both through the event and further research projects.
"Both departments will be collaborating quite a bit," he said. "We are currently looking at brain function in athletes."