Former NFL athlete is College of Psychology's 2018 Distinguished Alumnus
Earned degree at NSU while playing for Miami Dolphins
Dwight Hollier planned his post-NFL career while he was still a linebacker for the Miami Dolphins, and that meant hurrying to class at NSU after wrapping up practice. Eighteen years later, Hollier was honored by the College of Psychology as its 2018 Distinguished Alumni Award winner.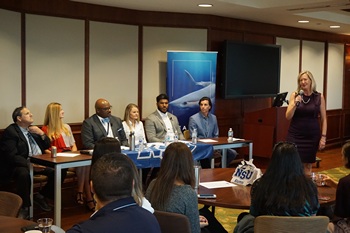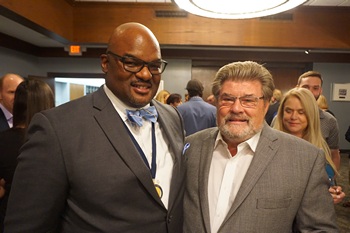 Hollier played in the NFL for nine years, spending eight seasons with the Dolphins and one with the Indiana Colts. He said being called an "old dude" at age 28 by his teammates inspired him to think about his post-football plans, which led to pursuing a master's degree in Mental Health Counseling from NSU. In 2000, Hollier both completed his degree and retired from the NFL.
Hollier has worked in multiple clinical settings in his post-NFL career. Currently, he is the Senior Associate Athletic Director at the University of North Carolina, Chapel Hill. He has also worked with the NFL as Director of Transition and Clinical Services, as well as overseeing the Player Engagement Department's Total Wellness Program. He serves on the National Board of Certified Counselors Foundation, the Super Bowl of Caring, and Mental Health America.
On Nov. 7, Hollier visited NSU's Fort Lauderdale/Davie Campus and participated in the panel discussion "Mind, Body, & Sport: The Counselor and Psychologist Perspective" with college faculty and Julius Thomas, a fellow former Dolphin who also plans to enter the psychology field.
Following the panel, Hollier was the featured guest at the College of Psychology's alumni and friends reception at the Tower Club in Fort Lauderdale.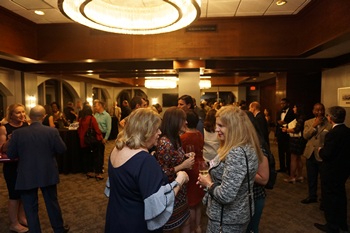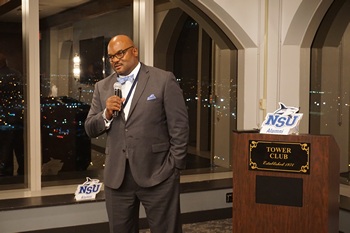 Since Hollier's time at NSU, the Counseling program has updated and offers concentrations in Clinical Mental Health Counseling, School Counseling, Substance Abuse Counseling, Substance Abuse Counseling and Education, and Applied Behavior Analysis.