College of Psychology faculty, students visit Jordan
Trip included working with Syrian refugees
For Clinical Psychology doctoral student Oraib Toukhly, a recent NSU-sponsored trip to Jordan was a homecoming to her native Jordan.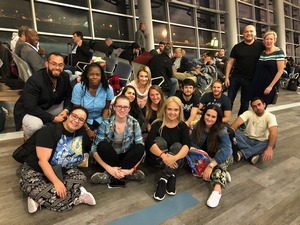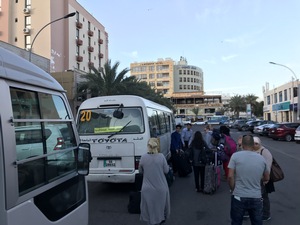 Toukhly was one of several College of Psychology students who accompanied faculty on a two-week trip to Jordan in March 2018. She worked with Associate Professor Stephen Campbell, Ph.D., of the Department of Clinical and School Psychology, to organize the trip. Campbell and groups of students have previously traveled to locations in Africa and India. The trip, coordinated with the Jordanian government, brought the NSU team in contact with several client populations in the city of Aqaba, including Syrian refugees, survivors of domestic violence, and children with disabilities.
"The demand for services is overwhelming," Campbell said.
Cases ranged from a man who served in the Syrian army and had been tortured, to children experiencing depression or having disciplinary issues at school.
Jordan, a country with a population of over 10 million, has only eight licensed psychologists, who are all based out of the capital city Amman. In working with Syrian refugees, Toukhly said it was common to see issues like posttraumatic stress disorder (PTSD), or in children attention deficit hyperactivity disorder (ADHD). One obstacle in assessing conditions and explaining them was the language barrier - both in the need for a translator and the lack of equivalent mental health descriptors.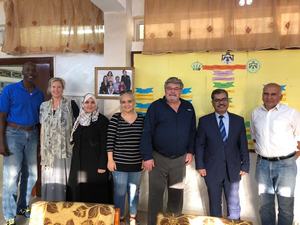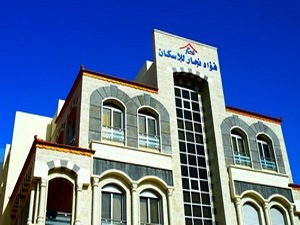 "The parents don't know what's wrong with their kids, so we tried to normalize the symptoms," Toukhly said. "We used simple descriptions of symptoms, like that depression was more than sadness."
Professor John Lewis, Ph.D., Chair of the Department of Clinical and School Psychology, said some children, as a result of the trauma they witnessed in Syria, were acting out and showing aggression in school. One child with oppositional defiant disorder (ODD) was abusing animals, Lewis said.
"These kids have been deprived of education and activities," Lewis said.
The language barrier and cultural differences presented a learning curve, said Associate Professor Tara Jungersen, Ph.D., Chair of the Department of Counseling. One of the sites the NSU team visited was the Jordanian National Forum for Women, a nonprofit organization that spreads awareness about domestic violence (referred to locally as "family protection") and provides a safe space for divorced parents to visit with their children.
"You're dealing with women whose husbands left them for having disabled children," Jungersen said.
Associate Professor Alexandru Cuc, Ph.D., was already familiar with the region after having previously conducted research with Toukhly on Jordanian immigrants. Cuc said the trip changed his perspective on diversity, in comparison to how he's experienced it in South Florida.
"You know a little about people from Jamaica, Cuba, or Haiti," he said. "There were still so many things that were invisible to us, and you always have to rely on a translator."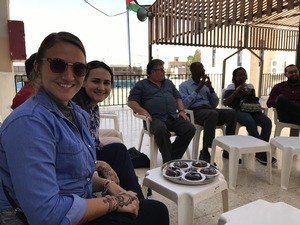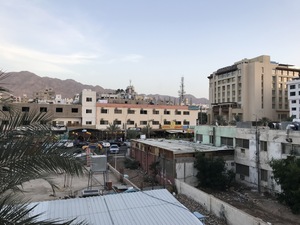 Those invisible cultural issues can manifest in unexpected ways, including taxi drivers declining fares and claiming engine trouble or other issues with their car. Cuc said the drivers didn't want to take on trips that were too short, so the stories about engine problems were a gentle type of rejection.
In addition to the sites where they met with clients, the NSU team also visited the University of Jordan in Amman and met with faculty there. In their free time, the team also swam in the Dead Sea and the archeological city of Petra, which is famous for its rock-cut buildings.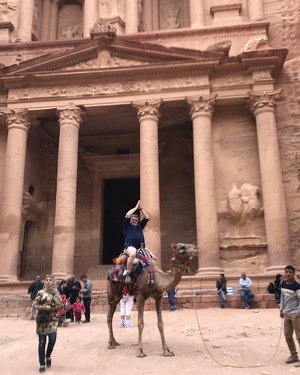 Following the trip, some faculty plan to write about their experiences. Jungersen said she was willing to participate in a future trip and now has a better idea of the types of resources needed to provide services.
Students also shared their feedback on the trip.
"The people in Jordan are nothing but kind, gracious, and welcoming. They genuinely respected us as both professionals and people while happily introducing us to their culture," said student Zachary Arcona. "One example is the story of a mother who has a son with an extremely rare medical condition. This mother probed us for answers and graciously accepted any feedback we could give her, while leaders within the community bestowed upon us the cultural barriers and knowledge that we may not have considered. In this way, the relationship was mutual. Additionally, the landscape of Jordan was breathtaking. I learned of the copious cultural landmarks and natural beauties that Jordan has to offer that are often not discussed within America."
Student Melissa LaCelle said coming back from Jordan was like leaving a second family.
"During our brief stay in Jordan, I was continually amazed by the tenacity, compassion, wisdom, and heartfelt enthusiasm exhibited by the Jordanian people. Women and men alike were fierce leaders in their communities and the more I learned about all they accomplished, the more deeply I felt inspired to bring their passion home with me," she said. "I carried my Western expectations and values to Jordan unsure of what or who I might find, but I left with an abundance of encouragement from countless examples of human resiliency and kindness. We were met with overflowing hospitality at every turn and I was profoundly touched by the way so many Jordanians welcomed us into their communities. We have so much to learn from the Jordanian people, including the power every one of us has to enact positive change and the healing potential of developing open-minded, open-hearted communities. I fervently await my return to my Jordan family and can only hope to embody the passionate gratitude for life and one another that they all showed me."