College of Psychology professors receive awards
Sobells receive honors both internally and externally
Professors Linda and Mark Sobell of the Department of Clinical and School Psychology have recently received awards recognizing their work.
On Nov. 16, the Sobells received the 2018 Lifetime Achievement Honor from the Association of Behavioral and Cognitive Therapies at its 52nd annual convention, held in Washington, D.C. The convention focused on "Cognitive Behavioral Science, Treatment, and Technology."
Two weeks earlier, Linda Sobell received the 2018 NSU Provost's Award for Research and Scholarship at the External Funding Recognition Reception. The award recognizes faculty members who have demonstrated significant achievement in supporting NSU's mission to foster scholarship, intellectual inquiry, and academic excellence. Mark Sobell was the inaugural recipient of the award in 2011.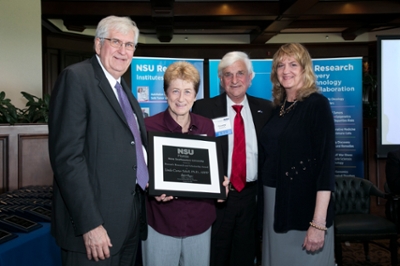 The Sobells serve as co-directors of the Guided Self-Change Clinic at NSU, which uses a motivational treatment model, described in the 2016 Surgeon General's Report on Addictions as appropriate for individuals with mild to moderate substance use problems. The Guided Self-Change intervention is recognized by Division 12 of the American Psychological Association (APA) as evidence-based. An iSelfChange app is also available for Apple and Android smartphones.