Neuroscience undergrad excels at research
Has co-authored papers, works in NSU lab
When Sarah Knafo started the Behavioral Neuroscience undergraduate program at NSU's College of Psychology, she did not expect to become a co-author on three published articles before even graduating.
But by December 2017 she had earned her first publication credit with "The Relationship between the ACTN3 Genotype and Measures of Stress, Exercise Performance and Body Composition: A Pilot Trial" in the Journal of Exercise Physiology, co-authored with College of Psychology Professor Jaime Tartar, Ph.D., and Associate Professor Jose Antonio, Ph.D., of the Dr. Pallavi Patel College of Health Care Sciences.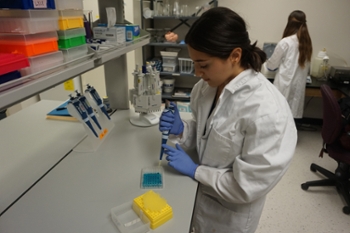 "Undergraduates don't publish papers in scientific journals, and if it does happen, it's extraordinarily rare," Tartar said. "She played a major role."
Knafo had originally majored in Biology before switching to Behavioral Neuroscience.
"I never really had an interest in research until I started doing it," Knafo said.
The first study Knafo participated in assessed the relationship of the ACTN3 gene and athletic performance by working with 109 athletes. Knafo also worked with Tartar and Antonio on two follow up studies, "Bone Mineral Density in Competitive Athletes," published in the Journal of Exercise and Nutrition, and "A fat mass and obesity-associated gene polymorphism influences fat mass in exercise-trained individuals," in the Journal of the International Society of Sports Nutrition.
In June 2018, Knafo presented on the results of the second study at the International Society of Sports Nutrition's 15th annual conference and expo and received third place recognition. In addition to conducting research for the three studies, Knafo also works as a research assistant in the Department of Psychology and Neuroscience lab.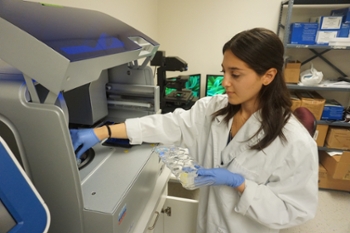 "I learned so much from Dr. Tartar and the previous graduate student," Knafo said.
Knafo's proficiency with lab work is also rare for an undergraduate student, Tartar said.
"It's a reflection of her hard work and effort," Tartar said. "She's working the way most of my graduate students work."
Outside of research and lab work, Knafo is also a member of The President's 64, a group of 64 students who serve as student ambassadors and provide feedback to NSU President/CEO George L. Hanbury II, Ph.D.
Knafo will graduate in May 2019 and is applying for doctoral programs in physical therapy. She said she was drawn to the field after seeing family members go through physical therapy, including her grandfather's recovery after a double hip replacement.
To learn more about the B.S. in Behavioral Neuroscience, click here.