High school students participate in neuroscience summer program
Program focused on intersection of science and law
For two weeks in June 2018, high school students conducted research as part of the fifth neuroscience summer training program hosted by the College of Psychology's Department of Psychology and Neuroscience.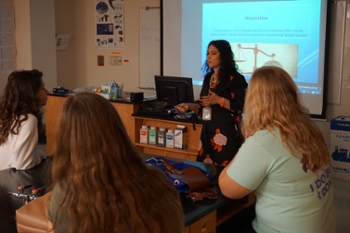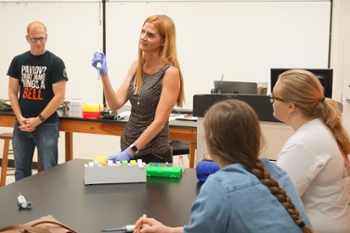 Each year, students from South Florida high schools listen to lectures from NSU faculty, conduct research and experiments, and present their results in a poster session with family members as guests. For 2018, the program's theme was the connection between neuroscience and the law. One of the event's organizers, Professor Jaime Tartar, Ph.D., said the theme resulted from reminiscing with Associate Professor Jessica Garcia-Brown, J.D., about an old multidisciplinary course about the psychopathic brain co-taught by four faculty members.
"We taught it from a team approach," Tartar said. "We were reminiscing about what a cool class that was, so we had the idea of doing a neuroscience and the law theme for the camp this year."
Some of the lectures covered topics like the criminal justice system, the neuroscience of police procedures, emotion and attention, and eyewitness testimony. Students also conducted experiments on genetic fingerprints and recorded action potentials. During the second week, students performed experiments and compiled their results into research poster. On the program's final day, they presented the posters in the lobby of the Leo Goodwin Sr. Hall. The students answered questions from faculty members and family.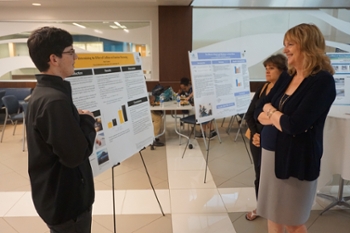 Tartar said that the boot camp-like nature of the program meant students covered a lot of ground in two weeks to complete their research projects.
"They always pull it off, but I don't think they have any idea what's going to happen when they first start," Tartar said.
To learn more about the college's undergraduate Behavioral Neuroscience program, click here.