NSU clinics teamed up for Optimizing Mental Wellness event
Coincided with month of awareness
The clinics housed within NSU's College of Arts, Humanities, and Social Sciences, the College of Psychology, and the Mailman Segal Center for Human Development joined forces for the Optimizing Mental Wellness event.
The May 2018 event, hosted in the atrium of the Carl DeSantis Building, offered information about the clinics in the Mailman Segal Center, plus the Psychology Services Center and the Brief Therapy Institute. Representatives from the clinics participated in a question and answer session, and a keynote speech by College of Psychology Professor Scott Poland, Ed.D., focused on supporting children in challenging times.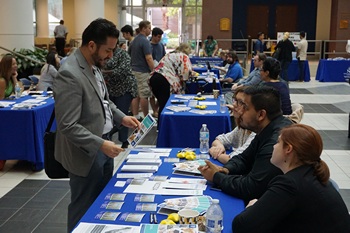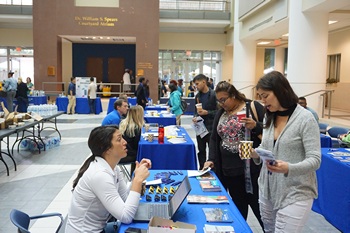 "We wanted to reach out into the community, support the community and show that NSU has clinics that they might need," said Paula Boros, an Assistant Director in the Department of Recruitment and Admissions, which supports all three academic units.
Boros, who is also a doctoral candidate in CAHSS' Department of Family Therapy, conceived of the event as a way to tie in with the national Mental Health Awareness Month in May. The nonprofit Mental Health America has observed it annually since 1949, when it was launched as Mental Health Week.
"We wanted to highlight the importance of mental health on a global scale, but also in our own communities and backyard," Boros said.
The event provided an opportunity for both members of the public to learn about NSU clinics, as well as for South Florida agencies working with clients who have mental health needs.
"It was great to see the clinics together in one space," said Arlene Brett Gordon, Ph.D., the Director of CAHSS' Brief Therapy Institute. "I don't think people are aware of the diversity of options we have to help them with their challenges."
Ana Martinez, Psy.D., the Director of Clinical Services for the Psychology Services Center, said the event highlighted the 15 individual clinics housed within the PSC.
"I think a community that is informed is one that will take advantage and seek the services to make changes in their lives and lead more productive lives," Martinez said.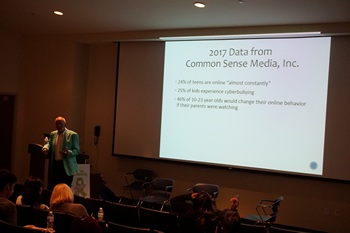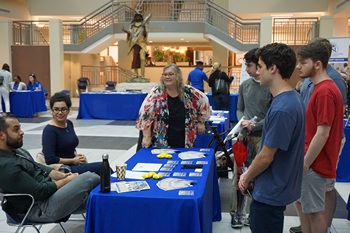 Rebecca Reese, the Assistant Director of Business Affairs for the Mailman Segal Center, said the event was also a chance to raise awareness indirectly via word of mouth. Reese noted that she spoke to several people who had family members struggling with feeding their children, which is a problem that can be addressed at MSC's Feeding Disorders Clinic.
"It's an opportunity to speak to a different group, and if the service is not right for them, they might know someone who can utilize it," Reese said.
Optimizing Mental Wellness also tied in with a fundraising effort to support NSU's clinics and increase mental health awareness. Donations can be sent to the ongoing campaign by texting NSUCURESTIGMA to 41444.