Clinical Psychology students get real world experience at Marlins Park
Trip part of Sports Psychology course
A recent trip to Marlins Park provided a unique field experience for the six students in the College of Psychology's elective Sports Psychology course.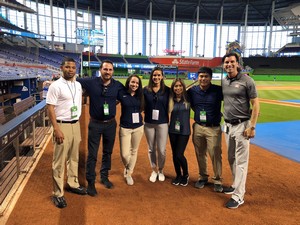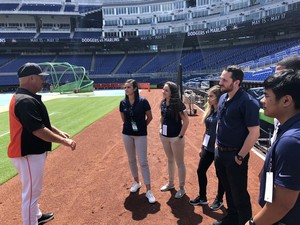 The course is taught by Associate Professor Robert Seifer, Ph.D., who also works as the sports psychologist for the Miami Marlins baseball team. 
"I don't think this opportunity is out there for other programs," said Seifer, of the Department of Clinical and School Psychology. "It's a great value-added experience for the students."
For the May 2018 trip, Seifer and his students met with front office officials, medical staff, and the athletes. Seifer said the trip's purpose was to see the real world application of the performance enhancement skills discussed in class.
"During this experience, we were able to see how crucial being genuine, communicating well, and the importance of building trust is when working in a multidisciplinary work environment," said Lindsay Nathan.
To Dan Krizan, the highlight of the trip was meeting with the team's general manager and assistant general manager and gaining insight into how the field of sports psychology has developed and where it is going.
"Talking with the players and coaches allowed me to gain first hand exposure as to what aspects of sport psychology have influenced them and their careers," he said. "It was truly exciting to hear their perspectives and their enthusiasm for our field."
Sofia Ricardo said the experience was eye opening, particularly in hearing how teams are overcoming the stigma of speaking with psychologists now that they recognize the value that sports psychology provides.
"We were able to see how some of our work in this field is not as structured and traditional as working in a clinic," she said. "We were able to see first-hand how this job requires a high degree of flexibility and adaptation to changes in plans and scenarios."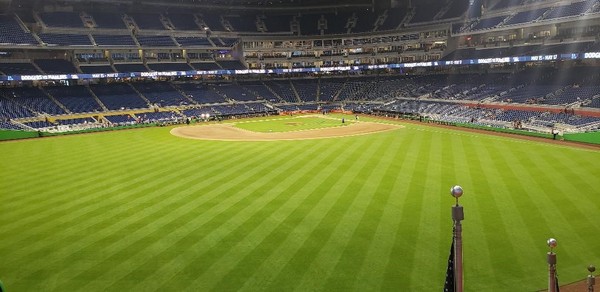 James Nguyen said the trip demonstrated the importance of establishing good working relationships with everyone on the team.
"Seeing how Dr. Seifer had maintained good relationships with players and management truly showed that you have to be able to talk with athletes and management in a way that will not jeopardize any relationship by maintaining confidentiality," Nguyen said.
Mary Shoaff appreciated the experience of seeing work outside of a traditional office setting. She found it valuable to see how many personnel work in concert with the athletes.
"The ability to effectively communicate and build relationships with the coaches, athletic training staff and others is a key component to doing this job," she said.
Daniel Mollenthiel also appreciated the opportunity to hear from staff and executives directly about how sports psychology is used in Major League Baseball.
"This trip can be very beneficial to future students who are interested in sports psychology because they will gain knowledge and insight that you can't learn in the classroom," he said.
Seifer's class also went on a trip to visit the Marlins-affiliated Jupiter Hammerheads to learn about player development in Minor League Baseball. Seifer said the two trips were valuable for his students because all of them have an interest in pursuing sports psychology as a career.
"I think they gained insight and understanding to both the tangible and intangible needs of a sports psychologist working with a pro team," he said.