William Dorfman appointed Professor Emeritus
Retired full-time position after 34 years at College of Psychology
William Dorfman, Ph.D., has seen many changes during his 34 years at Nova Southeastern University, but the most recent is his retirement in late 2017 from a full-time position at the College of Psychology.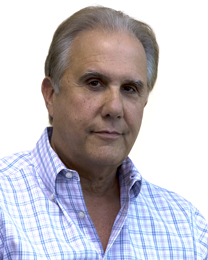 "I'm going to miss most my relationship with the faculty," said Dorfman, of the Department of Clinical and School Psychology. "I cherished and enjoyed that on a daily basis."
Dorfman's path to the field of psychology began in his native Scranton, Pa. He was interested in music and played the trumpet, but his interest in psychology was piqued by his older brother, who took several courses while at the University of Miami. While he loved music, Dorfman made a decision that would change his career trajectory.
"I recognized the need to make a living, so I changed my focus to psychology in high school," he said.
Dorfman attended the University of Scranton to earn his bachelor's degree on a U.S. Army scholarship. He then went into the advanced corps of the ROTC and was commissioned into the Medical Service Corps. He received leave to attend Ohio State University for his master's and doctorate. After earning his Ph.D., Dorfman began his service with the Army, working first at Fort Polk in Louisiana and later at Fort Ord in California.
"I was doing evaluations of military recruits who were unable to meet the expectations of the Army and needed psychological help to get out," he said of his time at Fort Polk.
At Fort Ord, Dorfman was the director of an APA-approved internship. He retired as a Major after six years of service with the military. Dorfman then spent six years as the director of a mental health clinic in Lexington, Va., and went into private practice in 1983.
It was also in 1983 that he came to Nova University, working as both an Associate Professor and as Executive Director/Chief Psychologist for the Community Mental Health Center. Dorfman oversaw the center during the time when it received APA approval, and he supervised the development of clinical training programs for psychology students.
At the time, classes were held in the smaller Mailman-Hollywood Building, and the Clinical Psychology programs admitted about 60 students annually.
"Nova was tremendously different," Dorfman said. "The faculty was much smaller since the student body was much smaller."
In the time since then, Dorfman said the college's faculty has evolved to represent the diversity of specialties in the field of psychology. During his time at NSU, Dorfman focused his research on topics like long-term mental illness. Dorfman said mentoring students was one of the highlights of his teaching experience, along with the subject matter itself. Dorfman taught courses on topics such as case conceptualization, adult psychopathology, and objective personality assessment.
"I always enjoyed teaching what I was teaching," he said. "I was never in a position where I had to teach something that was a requirement rather than something I had a passion for."
Although Dorfman has retired as a full-time faculty member, he is staying on with the college as an adjunct professor for the Department of Counseling. To coincide with his retirement, the university awarded Dorfman with the title of Professor Emeritus. In previous years, he has been honored with a STUEY award and several Professor of the Year awards.
Dorfman is still in private practice on a part-time basis, but he plans to use his extra time to travel and get back into playing the trumpet.