Two NSU colleges partner for Society for NeuroSports Conference
Inaugural two-day conference took place at beach resort
Faculty from two NSU colleges created a conference that attracted researchers from around the world in the fields of neuroscience and exercise/sport science.
The Society for NeuroSports was founded by Professor Jaime Tartar, Ph.D., of the College of Psychology and Associate Professors Jose Antonio and Corey Peacock, both Ph.D., of the Dr. Pallavi Patel College of Health Care Sciences. The society and the conference grew out of multiple research projects that Tartar, Antonio, and Peacock have collaborated on in recent years. The society's goal is to provide an outlet for research in the increasingly integrated fields of neuroscience and exercise/sport science.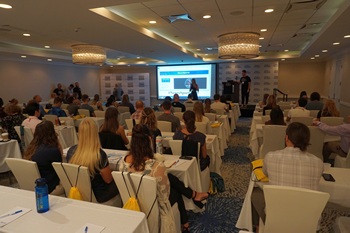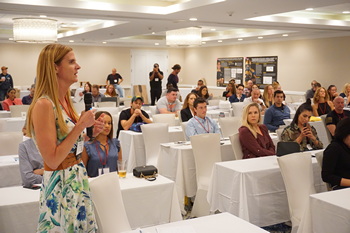 The conference, which took place November 15-16 in Deerfield Beach, attracted over 140 visitors, which was about double what was initially expected, Tartar said. Attendees came from across the country, but also Canada, England, and Belgium.
"People liked talking to other people outside of their area who are doing similar research," Tartar said about the conference's multidisciplinary nature.
That sentiment was echoed by Antonio. "The most interesting part of the conference was the fact that you had two completely different fields merging as one."
The conference included presentations on topics like "Sleep Science and Swoleness," a keynote on "Cognitive Contributions to Motor Learning," poster presentations and a data blitz, where participants had exactly one minute to present findings on their research.
Following the inaugural conference, the society will debut a journal in January, with the debut issue featuring the abstracts from the conference. The Journal of the Society for NeuroSports will be edited by Assistant Professor William Kochen, Ph.D., of the Department of Psychology and Neuroscience.
"I'm a brain injury and stress researcher, so it fits perfectly with neurosports," Kochen said. "It's marrying the concepts and putting them together."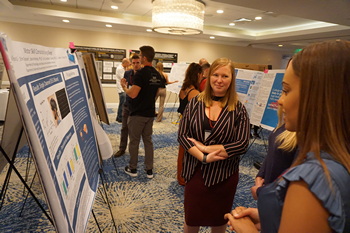 The second annual conference will take place November 13-14, 2020.
"We were proud to bring 140 participants together with leading scholars across the country to advance science and practice as it relates to sports," said College of Psychology Dean Karen Grosby, Ed.D. "Such a venture set a unique stage for future research and practice collaborations."