College of Psychology debuts NSU chapter of Nu Rho Psi
Honor society established in 2006
Students at NSU's College of Psychology have established a local chapter for Nu Rho Psi, the National Neuroscience Honor Society.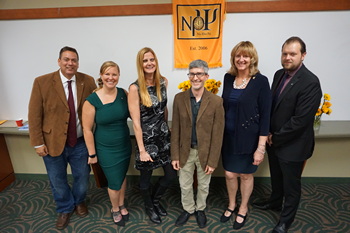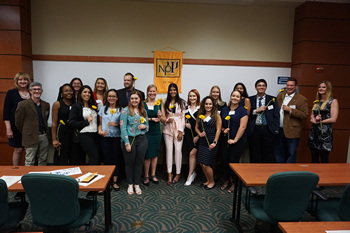 The honor society was founded in 2006 by neuroscience faculty and students at Baylor University, Baldwin-Wallace College and Macalester College. Including NSU, the society has grown to 90 chapters with over 5,800 members as of 2009. The honor society has multiple goals, including advancing the discipline of neuroscience, encouraging professional interest in neuroscience, raising public awareness of the field, promote career development and serve the community.
"The NRP society is a chance to grow and give back to the major that has allowed me to truly flourish as a scientist and as a person. Our major has a unique identity that, in its essence, sparks happiness and excitement," said Esha Parikh, president of the NSU chapter. "I really wanted to create something that I can leave behind that can really allow neuroscience students to showcase their accomplishments and grow their passion."
Member Emely Ruiz said she was excited about being part of an organization of like-minded people. "I've always wanted to connect with individuals who want the same things in life- crushing goals and meeting professionals that we admire," she said.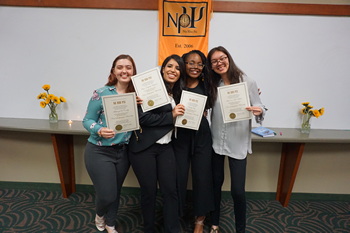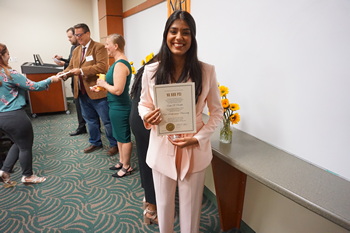 Assistant Professor Allie Holschbach, Ph.D., of the Department of Psychology and Neuroscience, serves as the chapter's faculty advisor.
"Nu Rho Psi connects students even more strongly to their fellow students and the local faculty who love neuroscience, but also gives them life-long membership in a community of passionate experts in the field of neuroscience from all across the nation."
Holschbach said being part of that community can help students find graduate school advisors or career mentors in the field.
For more information, contact mholschb@nova.edu.