College of Psychology students participate in STEM Undergraduate Research Symposium
Has occurred annually in South Florida since 2013
NSU College of Psychology undergraduate students participated in the 2019 STEM Undergraduate Research Symposium, which took place April 6 at Florida Atlantic University in Boca Raton.
Organized by Life Sciences South Florida, the symposium allows undergraduate STEM students to share their research and network with fellow students from 12 area colleges and universities. The event also features information about local graduate programs. The symposium is free for students and takes place at a different institution each year.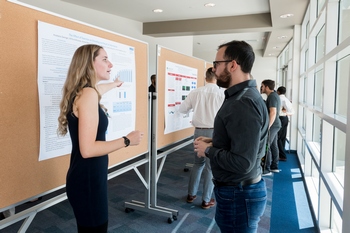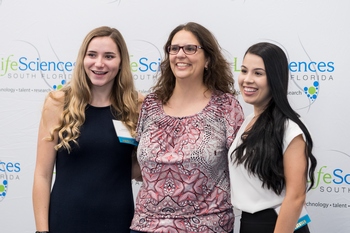 Students compete in oral and poster presentations, based on research conducted with faculty members.
"It's a local conference, so it's not difficult for them to travel to it," said Professor Jaime Tartar, Ph.D., of the Department of Psychology and Neuroscience.
NSU faculty participated in the symposium as judges for some of the projects. Overall, 22 NSU students competed in the symposium, with Psychology major Anastasia Zwenger winning third place in the poster category. Zwenger's poster was "The effect of exercise on encoding and recall of information," co-authored with Wilford Miranda, Aimee Berg, Sadeea Khan, Trenton Cronk, and Associate Professors W. Matthew Collins and Leanne Boucher.
NSU students won first place in the oral category in 2017 and 2018, and second place in the poster category in 2015.
"It's a fun academic event and a unique learning experience," Tartar said.
Click to read more about NSU's Psychology and Behavioral Neuroscience majors.