Registration open for summer neuroscience program
Two-week program is for high school students
High school students with an interest in neuroscience can get a step ahead in research by signing up for the College of Psychology's two-week neuroscience summer training program, which runs from June 17-28, 2019.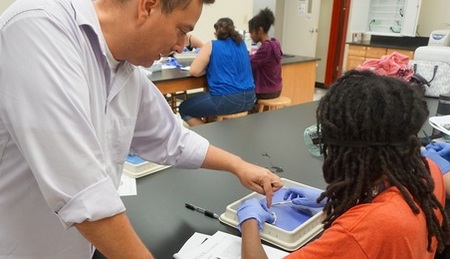 The program, now in its sixth year, gives students a hands-on opportunity to conduct experiments, attend faculty lectures, and present the results of their research at a poster session. The theme for 2019 is sports neuroscience and is a collaboration between the College of Psychology and the Dr. Pallavi Patel College of Health Care Sciences. Faculty members from both colleges are collaborating on research on this topic.
"The students will be able to participate in lab activities in the neuroscience lab and the exercise science lab. Along with experiments where they learn about action potentials and basic brain anatomy, they will also learn about exercise science techniques, such as measures of muscle activation and body composition," said Department of Psychology and Neuroscience Professor Jaime Tartar, Ph.D., one of the program's co-organizers.
The two-week program is open to high school students who will be entering their junior or senior year in fall 2019. The program costs $250, which includes registration/processing and tuition. Registration will be on a rolling basis until the cap of 20 students is reached. Students must submit their $50 registration by May 10, with final payment of the $200 tuition due May 27.

For information and application forms, click here.