TEDxNSU 2019 explored "Knowns and Unknowns"
Eighth year of independently organized conference
What is known? What is unknown? These questions formed the theme of the eighth TEDxNSU conference, which took place March 16, 2019, at NSU's Fort Lauderdale/Davie Campus.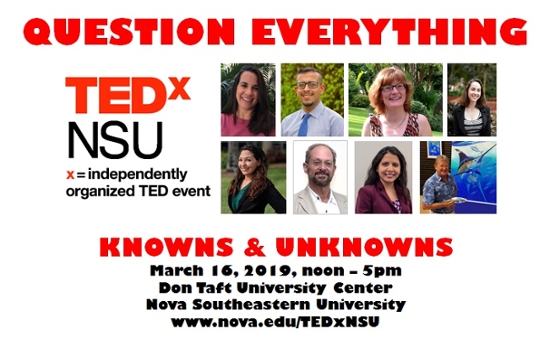 TEDx conferences take place around the world and are organized independently from the TED organization. Each year, the NSU conferences have been co-organized by Associate Professors Leanne Boucher and W. Matthew Collins, both Ph.D., of the College of Psychology's Department of Psychology and Neuroscience.
"Anyone who has been around the world in the last three years has intimately discovered that there's a lot more questions about truth and facts lately," Collins said.
The TEDxNSU conference draws its speakers from the NSU community, including faculty, alumni, current students, and staff. After submitting an idea, presenters work extensively with Boucher and Collins to refine their talk and practice their delivery.
"It's amazing to see the growth in people's talks as we work with them over the course of several months," Collins said. "Our stated goal is for them to give the best 10-minute talk of their life."
The eight speakers for 2019 included:
Mansoor Choudhry, a third year medical student at the Dr. Kiran C. Patel College of Osteopathic Medicine. His talk was "Beyond Words."
Sarah Goltsman, an undergraduate student majoring in Speech-Language and Communication Disorders in the Dr. Pallavi Patel College of Health Care Sciences. Her talk was titled "I Don't Deserve to be Here Today."
Mariana Guzmán de Pérez, a doctoral student in the College of Arts, Humanities, and Social Sciences' Department of Family Therapy. Her talk was "On Becoming Hopeful in the Midst of Uncertainty."
Guy Harvey, marine wildlife artist and conservationist, and founder of the Guy Harvey Research Institute at NSU. His talk was "Art and Science Working Together for the Conservation of Large Pelagic Fish."
Barry Nierenberg, Ph.D., a Professor in the College of Psychology's Department of Clinical and School Psychology. His talk was on "Mastering Suffering."
Ashley Rizzotto, a career advisor in the Office of Career Development. Her talk was "Mastering the Art of the Interview."
Rita Shea-Van Fossen, Ph.D., an Assistant Dean and Associate Professor at the H. Wayne Huizenga College of Business and Entrepreneurship. Her talk was titled "Embrace Challenges to Find Your Meaning."
Maria Valladares, an undergraduate student majoring in Legal Studies in the College of Arts, Humanities, and Social Sciences. Her talk was "Become a Storyteller: The Importance of the Stories of Others."
The talks touched on subjects like ocean conservation, overcoming barriers, impostor syndrome, political turmoil in Nicaragua, language and its role in communication, finding purpose in work, and adjusting to life in the U.S. after migrating from Venezuela.
According to Collins, the crowd was especially lively this year and seemed to connect with each talk.
"We should be thanking our speakers, but they're always thanking us for the opportunity," Collins said of the presenters. "They put in a lot of work. These are intelligent and talented people."
Full videos of each presentation are posted on YouTube after the conference. Collins said the 2019 videos should be ready by mid-April.