TEDxNSU 2019 tickets on sale
Topic is Knowns & Unknowns
It's that time again – the 8th Annual TEDxNSU event will be taking place in the Performance Theatre in the Don Taft University Center on Saturday, March 16, noon – 5 PM. Tickets are $20 and can be purchased online. Your ticket includes admission to the event, lunch, snacks, and all the interesting conversations and fun you can stand!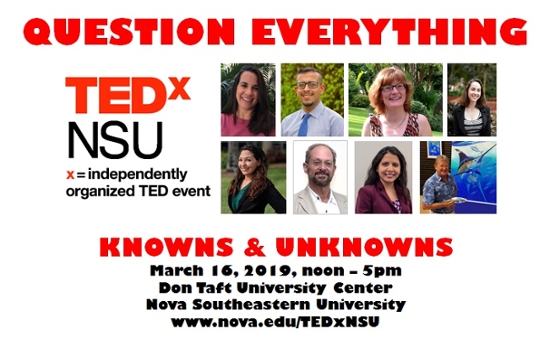 In the spirit of "ideas worth spreading," TED has created TEDx. TEDx is a program of local, self-organized events that bring people together to share a TED-like experience. NSU is proud to host the eighth annual TEDxNSU event - an engaging day of live presentations by fellow NSU students, faculty, staff, and alumni; along with TED videos, interactive exhibits, and discussion. TEDxNSU is co-organized by College of Psychology Associate Professors Leanne Boucher and W. Matthew Collins.
This year's speakers include:
Mansoor Choudhry, medical student in the Dr. Kiran C. Patel College of Osteopathic Medicine, "Transcending Language"
Sarah Goltsman, undergraduate student in the Dr. Pallavi Patel College of Health Care Sciences, "I Don't Deserve to be Here Today"
Mariana Guzmán de Pérez, doctoral student in the College of Arts, Humanities, and Social Sciences, "On Becoming Hopeful in the Midst of Uncertainty"
Guy Harvey, of NSU's Guy Harvey Oceanographic Center, "Art and science working together for the conservation of large pelagic fish"
Barry Nierenberg, College of Psychology faculty, "Mastering Suffering"
Ashley Rizzotto, career advisor in the Office of Career Development, "Researching and Soul-Searching: Mastering the Art of the Interview"
Rita Shea-Van Fossen, assistant dean and faculty in the H. Wayne Huizenga College of Business and Entrepreneurship, "Embrace Challenges to Find Your Meaning"
Maria Valladares, undergraduate student in the College of Arts, Humanities, and Social Sciences, "Become a Storyteller: The Importance of the Stories of Others"
Our theme this year is KNOWNS & UNKNOWNS. We'll be exploring some ways in which knowledge – or the absence thereof – have shaped our speakers' personal and professional lives.
To read more about this year's speakers, click here. Tickets are required and are nonrefundable and nontransferable. Tickets are limited to encourage interaction between speakers and attendees. To get your ticket, click here. For more information, like TEDxNSU on Facebook, follow @TEDxNSU on Twitter, or email TEDxNSU@nova.edu.