College of Psychology students travel to India to provide health care services
Worked in conjunction with College of Osteopathic Medicine
A group of students from NSU's College of Psychology and College of Osteopathic Medicine spent part of their winter break in India to provide health care services to people in need.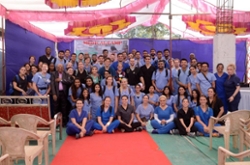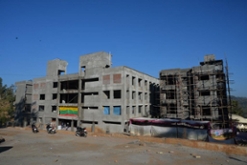 Students from the colleges spent nine days in Saputara in Gujarat, the country's westernmost state (known for being the home of Mahatma Gandhi). It was the latest in a series of annual trips started in 2014 by Anthony Silvagni, D.O., a Professor and Dean Emeritus of the College of Osteopathic Medicine. Silvagni's students provide services at Vanbandhu Arogya Dham, a healthcare facility under construction by Ashok Patel, a Gujarati native who owns a dental practice in Massachusetts. (Patel's daughter, also a dentist, is a graduate of NSU's College of Dental Medicine.)
Silvagni said past trips have included faculty and students from other colleges to represent all professions. The 2016 trip marked the first partnership with the College of Psychology.
"The need is overwhelming," Silvagni said. "India has one of the worst depression rates in the world."
College of Psychology Associate Professor Stephen Campbell, Ph.D., selected 19 clinical students to accompany him out of a pool of 45 applicants.
"Interdisciplinary is becoming the way of doing business, especially in health," Campbell said.
Campbell said that patients who visited the clinic would receive referrals to his team for mental health services. During the nine days of the trip, Campbell estimates that they worked with more than 1,200 patients performing assessments, providing psychological support to people with medical complications, and using art and play therapy with children.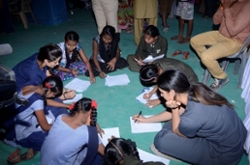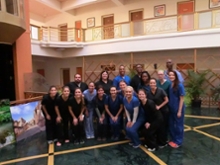 The trip was an opportunity that doctoral student Christopher Fisher could not pass up.
"I believe that multicultural competence is not just an ethical obligation of mental health professionals, but a moral obligation as well," he said. "I viewed this as a firsthand opportunity to gain an invaluable understanding of the perception of mental illness within the Indian culture."
Fisher noted several challenges in providing services, such as the limited time of the trip and having to work through interpreters translating to and from Gujarati, but he found the experience rewarding.
"The most rewarding part of the trip were the smiles we would see on children's faces every morning when arriving to the hospitals and clinics," he said. "Seeing how appreciative the Indian people were to have us there providing services for them motivated me even more to do what I could to help them."
Student Lauren Tidwell was similarly attracted to the opportunity to work in a foreign culture.
"One of my greatest passions in psychology is to learn to see the world through someone else's perspective and to work to understand how they experience their struggles," Tidwell said. "While there are certainly basic human struggles that overlap, how an individual understands them and how a culture responds to them varies."
Tidwell also cited the language barrier as a challenge, especially in some cases where a patient spoke a different dialect, which then required two translators. Tidwell taught her patients anger management strategies, exercises to cope with stress, and how to look at familial conflicts from different perspectives.
Fisher and Tidwell both said they would be interested in working abroad again in the future.
"When you see the impacts on the students, it makes the trip meaningful," Campbell said.
Campbell has traveled professionally to Africa four times and was in Haiti after the 2010 earthquake. He is developing an elective course in international psychology that will include a two-week trip to Swaziland in Southern Africa, which he hopes will be offered beginning in summer 2017. Silvagni plans to increase his involvement in India with trips in June and December. He said he intends to keep up the interprofessional effort.
"The psychology students played a team role and made a positive difference with the kids and the patients," Silvagni said.