Counseling student receives award for volunteer work
Award presented at FMHCA conference in Orlando
It isn't enough for Paula Lazarim to just be a graduate student at NSU's College of Psychology.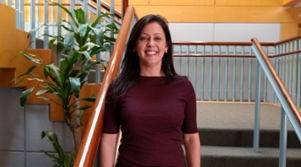 The Brazilian native also works as a graduate assistant in the Department of Counseling and volunteers with the Florida Mental Health Counselors Association (FMHCA). In February 2017, Lazarim received the FMHCA Volunteer of the Year award at the association's conference in Orlando. She also presented a poster at the conference on the topic "Dilemmas of Belongingness: A case of Repatriation Crisis."
Although her undergraduate degree from the University of Julio de Mesquita Filho in Sao Paulo was in Biological Science, Lazarim said that counseling is where she wants to be. She studied Psychology at South University in Royal Palm Beach before starting NSU's Mental Health Counseling program in 2016.
"It's an old dream to be a mental health counselor and work with people to help them find their way," Lazarim said.
Lazarim is currently conducting research on the acculturation process and domestic violence. She envisions being both a practitioner and researcher.
"I like counseling practice and research, and I think that the best way to improve counseling clinical setting practice is through research for better interventions and better therapeutic results," she said.
Lazarim wants to stay in South Florida after completing her master's degree, and she intends to make the most out of her time at NSU.
"All students should be engaged and take advantage of the opportunities they have here, to engage as a volunteer or start research," she said.
Department of Counseling Chair and Associate Professor Tara Jungersen, Ph.D., has seen Lazarim's work ethic in action.
"Paula is a dedicated student who is passionate about the field of mental health counseling," Jungersen said. "She is responsible, caring, and always willing to take on a challenge and learn new skills."
Lazarim intends to pursue a doctoral degree at NSU after completing the Mental Health Counseling program in early 2019.