College of Psychology faculty teach First Year Seminar
New university-wide course debuted fall 2016

Two College of Psychology faculty members participated in the fall 2016 debut of NSU's new First Year Seminar.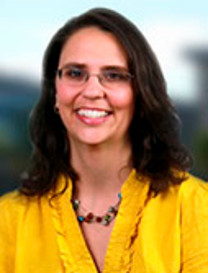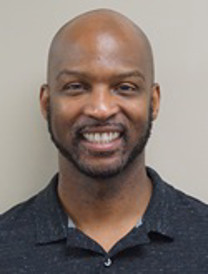 Associate Professor Leanne Boucher, Ph.D., of the Department of Psychology and Neuroscience, said the course had been in development between three to four years, starting with recommendation from a university-wide first year experience council she was on that connected faculty and from across NSU to investigate issues on how to best serve first year students and increase retention. Boucher serves as the FYS coordinator.

"I was interested in this kind of program, in how to better prepare first year students," Boucher said.

The new course, UNIV 1000, is mandatory for all first time in college students, in contrast to previous first year courses that were not. The council researched areas like class sizes, format, and faculty training from similar courses at other universities to establish best practices.

The course's goals include helping to facilitate the transition to college life, empowering students to become champions for their own educational and career successes, and creating a sense of community at NSU. Boucher said students in most UNIV 1000 sections visited the library, and Career Services hosted guest lectures from faculty and staff about services like the Henderson Counseling Center, financial aid, and tutoring and testing. Some sections met outside of class time for visits to the RecPlex, attended NSU basketball games, saw shows at the Performing and Visual Arts Wing in the Don Taft University Center, or visited the NSU Art Museum in Fort Lauderdale. The activities were meant to form group cohesion and a support network for the students.

For its fall debut, the course was offered in 34 sections totaling 643 students. The courses were taught by faculty from across campus, including the colleges of Arts, Humanities, and Social Sciences, Psychology, Business, Education, Nursing, Health Care Sciences, Medical Sciences, Engineering and Computing, Natural Sciences and Oceanography, and the Mailman Segal Center for Human Development.

In one instance of the hands-on activities that the course encourages, students in Boucher's fall class participated in the recreation of an experiment conducted in 2014 at Stanford University to determine how walking influences creative thought. Boucher's students, who were unaware of the experiments goals, sat down outside and conducted the creative exercise of naming uncommon uses for everyday objects. They then spent about 10-15 minutes walking around Gold Circle Lake to generate some physical exertion, followed by more creative exercises.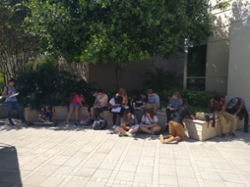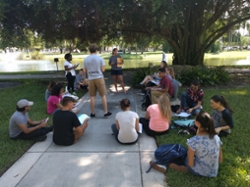 The class discussed the results of the experiment during the following session. The results were similar to those in the original study and gave Boucher the opportunity to introduce psychological concepts to her class. Associate Professor Myron Burns, Ph.D., also took the opportunity to inject psychology into his curriculum when discussing topics like career development and stress management.

Burns said he thought the class was a good idea when approached by Boucher to teach a section. His class numbered 19 students, many of which were out of state or international.

"It made a lot of sense," he said. "Some students come to class and go home and have little interaction. This creates student interaction."
Boucher said teaching First Year Seminar differed from her usual psychology courses because it had an increased focus on mentoring students.

"It made it more challenging, but also personally more interesting and fulfilling at the same time," she said.

Boucher said the course is being modified based on feedback from both students and faculty. There are three sections for the winter 2017 semester, but the fall is expected to have about 36 sections.