Psychology students conduct mock trial in class
Trial served as final exam
Lawyers for the plaintiff and defendant stood in front of a judge and made their arguments in the child custody case.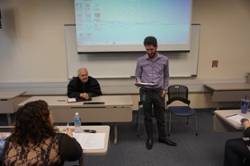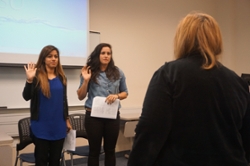 While the case was real, the parties were students re-enacting the trial as the fall 2016 final exam in the elective course PSY 4419 Forensic Psychology: Family Law.
"The goal of the course is to teach students what psychology can offer lawyers and others in family law," said College of Psychology Professor Lenore Walker, Ed.D.
Walker's research and 1979 book The Battered Woman defined Battered Woman Syndrome, and she has testified as an expert in many court cases over the years. Walker said that while the elective was open to all students, it usually was filled with those concentrating on forensic psychology. The course covered topics in marriage and family law like breaking prenuptial agreements, reproductive rights, and the basis for divorce.
"Forensic psychology is really the application of psychology to answer legal questions," she said.
The second half of the course focused on child custody, with cases covering child abuse in family court. Students studied a videotaped deposition for a case that Walker testified in on behalf of the plaintiff. The case, used with the plaintiff's permission, was the basis of the mock trial. In that case, a mother sought custody of her four children in a divorce proceeding and accused her estranged husband of abusing her. The issues before the court were to establish custody, grant the divorce and divide the family assets.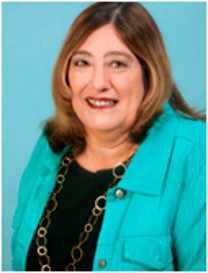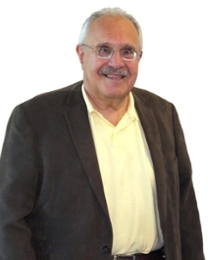 Students took on the roles of the plaintiff, the defendant and the attorneys. Walker's colleague and husband, Professor David Shapiro, Ph.D., played the judge. It's a part each has played for the other in classes involving mock trials, he said. Shapiro has also testified in many cases and is familiar with court procedures.
Shapiro said he enjoys playing his part and the perspective it offers him on a court case.
"I enjoy seeing how what I say as a psychologist is viewed from the judge's point of view," he said.
In the real case, both parents were initially granted joint custody, but the mother later gained full custody after it was proved that abuse had occurred.
Walker graded her students on whether they understood the issues involved, how they translated those issues and testified in court, and if they could answer questions and hold up under cross examination. She said her students performed well.
"One of the things you learn is that you have to be totally prepared, and know what you can and can't say," Walker said.