Psychology Services Center playrooms receive new toys, games
New items collected by graduate students after fundraiser
The College of Psychology's Psychology Services Center inside the Maxwell Maltz Building features new toys in its playrooms thanks to the fundraising efforts of graduate students.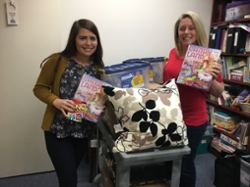 Students from the Graduate Association of School Psychology, or GrASP, organized two fundraisers in 2016 to purchase new toys and games for the playrooms, as well as items for the adult therapy rooms. GrASP member and School Psychology trainee Mylissa Fraser said the fundraisers included selling School Psychology T-shirts at the annual conference of the Florida Association of School Psychologists in Orlando last October, as well as selling College of Psychology T-shirts in partnership with the SGA from January through May. Fraser said the goal was to raise $300, but the two fundraisers brought in about $450.
"We are appreciative of their efforts," said Yukari Tomozawa, Psy.D., the coordinator for Child, Adolescent, and Family Services in the PSC.
The new items include toy cars and board games like Candy Land. Tomozawa said the toys play an important role in engaging child clients into therapy.
"Kids express themselves through play," Tomozawa said. "It helps them talk about their feelings and what's going on."