Psychology graduate finds passion in lab research
Originally started as biology major
Haley Hickey traded a career at sea for one on land working in psychology.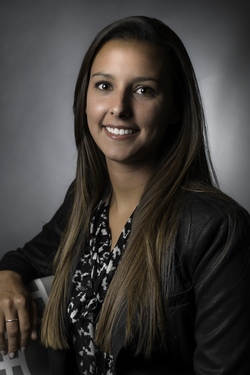 Originally from Naples, Hickey previously worked as a water skiing instructor and later as a boat captain in Miami, until she decided to make a change.
"Ultimately, I didn't want a career in the yachting industry and definitely felt that I needed to go back to school," Hickey said.
Hickey spent two years studying biology at Florida Atlantic University and transferred to NSU for its smaller class sizes. She took several psychology courses and realized that biology wasn't the right major, so she switched to the College of Psychology's B.S. in Psychology program, which she graduated from in December 2016. Hickey took that introductory course with Associate Professor Jonathan Banks, Ph.D., and worked with him in his cognitive lab.
In the lab, Hickey worked with Banks on memory research and the effects of stress on cognition. She also worked Banks on several publications and presented at NSU's Undergraduate Student Symposium.
"In the time that Haley has been in my lab I have been fortunate to watch her develop as a researcher," Banks said. "She has been a critical member of my research team and has developed to the point that she is already making theoretical contributions greater than many graduate students. Haley has a bright future as a researcher ahead of her."
Hickey cited the accessibility of faculty and working in the lab as some of the highlights of her time at NSU.
"My time in the lab played a major role in my understanding of what I want to do as a career, along with providing knowledge that I wouldn't have gotten in a classroom," Hickey said.
Hickey is wasting no time on the next step of her education and will begin a graduate program in fall 2017. In the meantime, she works at a doctor's office and as a teaching assistant for some online classes. She also volunteers with a hospice service and goes back to Naples occasionally to teach adaptive water skiing to disabled children and veterans.
"You can use it whether you're a quadriplegic or paraplegic," she said. "It's a fun program to be a part of."
Hickey intends to continue cognition research while in her graduate program. Her ultimate goal is to earn a clinical Ph.D. and work with first responders or veterans in pre-trauma exposure interventions.