College of Psychology alum runs holistic wellness center
Also appears as media commentator
Gregory Jones, Psy.D., insists that his employee Yogi wear a tie to work. But Yogi isn't a typical employee - he's a Corgi.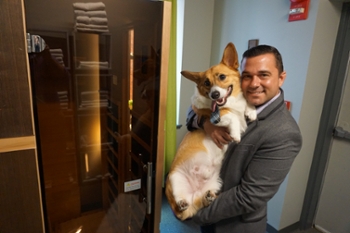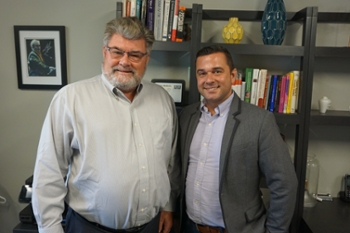 Jones, an alum of NSU's College of Psychology, founded the Capital Center for Psychotherapy and Wellness in Washington, D.C. in 2015. For his undergraduate degree, Jones attended the University of Illinois at Urbana - Champaign and initially intended to study political science and pre-law. But he enjoyed a psychology class and recalls his experience working at a county crisis hotline.
"The ability to help people felt really rewarding," Jones said.
When the time came to search for a graduate program, Jones said he had trouble finding one with an LGBT track. He decided on NSU, where he earned an M.S. in Mental Health Counseling and a Psy.D. in Clinical Psychology. In 2004, Jones founded the Gay-Straight Student Alliance (now known as PRISM), an organization dedicated to improving understanding of the LGBT population and creating a welcoming environment for students.
Jones did his pre-doctoral internship at Johns Hopkins University Counseling Center and later his post-doctoral fellowship at Harvard University Health Sciences. He credits his time at NSU with allowing him to explore and try on other hats in his programs.
"NSU gave me so many opportunities to create my own I.D. and find what I want to do," he said.
In 2008, Jones joined Georgetown University's Counseling and Psychiatric Services as an LGBTQ Specialist. He went into private practice a year later before opening the Capital Center in 2015.
"I wanted to do something more holistic," Jones said. "Clients with eating disorders have multiple needs."
And so the Capital Center takes a multi-pronged approach, offering services such as individual and group therapy, couples counseling, massage therapy, LGBTQ-focused therapy, nutrition services, and acupuncture. It also offers fitness instruction and an infrared sauna.
"It's helpful to be able to view the body from a holistic approach since health comes in different varieties," said Paul Robison, an acupuncturist/herbalist who has worked at the Capital Center since it opened.
A fixture at the Capital Center is Yogi, the therapy dog that Jones adopted at seven weeks. Yogi roams the halls wearing his tie and has a calming effect on patients.
In addition to running the Capital Center, Jones has been interviewed by media outlets like CNN, NPR, and the D.C. FOX affiliate.
Jones has nine people on staff and recently made three new hires.
"I enjoy being able to practice how I like and train other clinicians," Jones said.