Psychology grad student nominated for STUEY award
Currently pursuing Psy.D.
Lucas Driskell has already won several honors during his time at NSU, and he could soon be adding a STUEY to that list.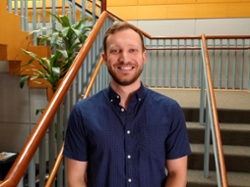 Driskell is the College of Psychology's Student of the Year finalist for NSU's Student Life Achievement Awards, also known as the STUEYS. Originally from Tampa, Driskell earned a B.S. in Psychology from the University of Central Florida in 2012. He said his interest in psychology stemmed from seeing how his father changed after being injured by a drunk driver.
"I've always been interested in the brain and how it dictates everything we do and who we are," Driskell said.
Driskell said he was drawn to Nova Southeastern University by the opportunity to work with Professor Charles Golden, Ph.D., of the Department of Clinical and School Psychology.
"He's a big name in neuropsychology, and I knew I would get good neuro training," he said.
Driskell completed his M.S. in Clinical Psychology in 2015 and is now working toward a Psy.D. He has worked in several capacities at the Psychological Services Center, first as a trainee and most recently as a practicum coordinator. Driskell also works as a consulting psychometrist conducting neuropsychological assessments on players with the Florida Panthers and Miami Dolphins. He is also engaged in an externship at Memorial Regional Hospital South's Memorial Rehabilitation Institute. His work there deals with traumatic brain injury (TBI), and a current project is investigating how brain injuries affect sleep rhythms.
In 2016, Driskell co-authored with Golden and Assistant Clinical Professor Lisa Lashley, Psy.D., the book "The intercorrelation of traumatic brain injury and PTSD in neuropsychological evaluations." Driskell also keeps busy as programming officer for the Association of Neuropsychology Students in Training (ANST) in APA Division 40. In his free time, he's also taken up amateur astronomy by stargazing with his telescope at night on the beach.
But even when looking at the stars, he's still thinking about psychology.
"I would love to be a neuropsychologist for NASA and examine the effect of zero gravity on cognitive function," he said.
On his nomination for a STUEY, Driskell said the news came as a surprise.
"It feels good that people can feel that way about you and have that level of respect," Driskell said. "So many students in this program work so hard."
STUEY winners will be announced in an April 13 ceremony at the Rose and Alfred Miniaci Performing Arts Center on the NSU main campus.