NSU experts share insights during concussion clinic
Discussion outlined issue in professional and amateur sports
A recent clinic on sports concussions at a Davie gym featured two representatives from Nova Southeastern University. The June 7 event at The Chamber gym was hosted by Dr. Spencer Baron, a chiropractor who has worked with the Miami Dolphins, Florida Marlins, and Florida Panthers. Due to the term's ubiquitousness, Baron began by defining a concussion as an injury caused by the brain swirling around and hitting the skull. He then outlined different types of head injuries and noted a 35 percent rise in ER visits for concussions between 2006-10.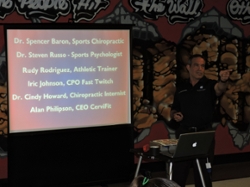 "A mild hit can have a big effect," Baron said.
Some schools have changed programs out of concussion fears, including banning heading the ball in soccer. But Baron noted that only 17 percent of concussions in soccer arise from heading the ball. Some companies advertise equipment that claims to prevent concussions, but this can be misleading, according to Stephen Russo, Ph.D., a professor at NSU's College of Psychology.
"There's frankly people out there that are capitalizing on fear," he said.
Russo, a sports psychologist who has given presentations on concussions, stressed the importance of proper evaluation and an effective treatment course. He noted that limiting someone to rest after an injury isn't helpful and that some exercises like walking and jogging can be beneficial during recovery. Approaches to treating concussions have changed as research uncovers more about the injury.
"We know a lot more about this injury than we did, but we don't know everything," Russo said.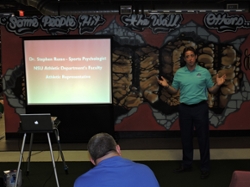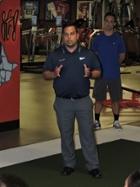 NSU Athletic Trainer Rudy Rodriguez ran through a list of ways to assess an athlete's condition immediately following an injury, such as asking them to read the scoreboard.
"If the athlete can't walk, they're slurring their speech, they can't see the scoreboard, we take them out," Rodriguez said.
Baron echoed that course of action: "When in doubt, take 'em out. It's better to err on the side of caution."
Russo founded the NSU Sport Concussion Program in 2008 and previously worked as Director of Sport Psychology at the University of Pittsburgh Medical Center and the International Junior Golf Academy. He has also co-written multiple articles on sport psychology. Rodriguez has been with NSU since 2010 and has 14 years of experience as an athletic trainer.