NSU hosts law enforcement training
Local and federal agencies represented in session
A recent law enforcement training on crisis and hostage negotiations at Nova Southeastern University covered the "Psychological Aspects of the Active Shooter- Offering a Threat Assessment Approach for Public Safety and Educational Professionals."
The College of Psychology's Vincent Van Hasselt, Ph.D., has been hosting the monthly trainings for law enforcement and public safety agencies since 2000. The training included representatives from about 12 agencies at the local and federal level. Many of the trainings include a dual component with a morning lecture followed by afternoon role playing exercises with students. Other topics during the monthly trainings have included conflict and dispute resolution and suicide prevention.

"It's a supplement in terms of what their departments offer," Van Hasselt said.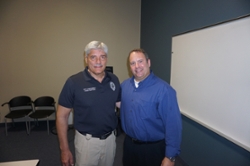 Guest speaker Robert J. Cipriano Jr., Psy.D., ABPP, is a licensed psychologist in Florida, the owner and founder of SIMCIP Group Forensic-Psychological Consultants, LLC., and is Board Certified in Police and Public Safety Psychology by the American Board of Professional Psychology (ABPP). One area Cipriano focused on was depression and suicide, some of the signs of which can also be found in active shooters. He said agencies can benefit from more training on suicide, both in dealing with the public at large and within the law enforcement community. Cipriano said police officers struggling with thoughts of suicide have difficulty seeking help due to stigma of being seen as weak or untrustworthy in a critical situation.
Cipriano said research and training on active shooters has evolved consistently since the Columbine shooting in 1999. He noted a parallel with the use of street drugs, citing the appearance of Flakka in recent years.
"You have to stay up on current affairs (both behavioral and pharmacological) and what drugs are out there. If you don't know, you can mistake it for something else," he said.
Cipriano also emphasized the importance of training the 911 dispatchers and Police Complaint Officers who handle emergency calls and more specific complaints/concerns that may require more attention, respectively.
"They're the eyes and ears of when a call goes out. They have to be trained as well to pass on information to the right people," he said.
After the lecture, the training switched focus to role play exercises that featured the students from Van Hasselt's summer Police Psychology Seminar. Exercises included hostage and crisis situations, where Clinical Psychology doctoral students, known as the Nova Players, performed multiple roles as police negotiators responded. Van Hasselt said the experience from the exercises benefits students who later seek internships in the field. Former Nova Players have gone on to careers in police psychology at local and federal law enforcement agencies.
"The students get great experience out of it," Van Hasselt said.
In addition to his research, Van Hasselt has worked as a part-time officer with the Plantation Police Department since 1995 and believes that work has benefitted his research. He is co-founder of the department's Crisis Response Team, where he continues to serve as Training Coordinator.
"You don't have to be a police officer to be a police psychologist, but it helps to get a better understanding of what the work is about," he said.