College of Psychology faculty, staff get pie in the face
Fundraising effort part of challenge from College of Education

About 70 participants lined up outside the Maxwell Maltz Building to stick it to students, staff, faculty - even the dean. The item in question they were sticking: Pies.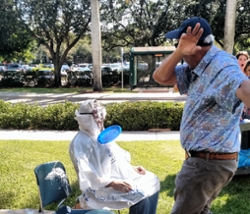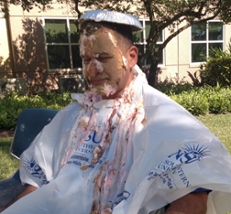 It was all part of the College of Psychology's Pie in the Face Challenge with the Abraham S. Fischler College of Education. The challenge was inspired by Fischler's Day of Giving effort, according to Carlos Perez, Ed.D., Senior Manager for Marketing and Admissions in the College of Psychology. The challenge: Raise money from faculty and staff giving.

Perez decided to tie the pie challenge to the college's ongoing campaign to offer commemorative medallions for $20.17 to the Class of 2017. The medallions feature a shark design with the phrase Semper Discentes et Adservientes, which signifies "always learning and serving."

"It made sense to blend the pie challenge with the medallion campaign," he said.

The effort raised nearly $4,000 with purchases by nearly 200 individuals, including students, faculty, staff, the community, and the College of Arts, Humanities, and Social Sciences.

"It really went beyond the college," Perez said.

At five-minute intervals for one hour on May 10, participants were able to throw pies at 13 volunteers, including Dean Karen Grosby, Director of Finance Bill Allen, Professor Scott Poland, Ed.D., and more.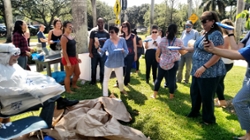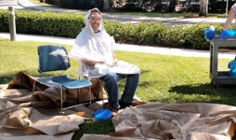 "Sure; after all, our faculty couldn't hit the side of a barn," said Allen cavalierly, before being hit by at least seven pies from faculty and staff.

"I'm actually nominating myself because I love fundraisers," said student Deborah Radmanesh, the first person to get a pie in the face.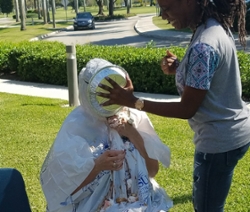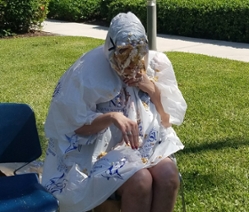 Perez was the last to get a pie in the face. He said the pies contained heavy cream, pudding, whipped cream, graham cracker sprinkles, and a cherry on top.

"It's always weird to get something in your face, and I tried to lick the cream," Perez said.

To see a video from the event, click here. To purchase a commemorative medallion, click here.