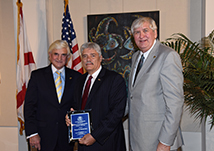 Please join me in congratulating our own Professor Vince Van Hasselt who was recognized as the 2014-15 NSU Distinguished Professor of the Year at the Annual Faculty Reception.  Dr. Van Hasselt was selected prior by the Center for Psychological Studies as the CPS Distinguished Faculty of the Year.  
Having served as NSU professor since 1992, Dr. Van Hasselt is Professor and Director of the Family Violence and Adolescent Drug Abuse Prevention and Treatment Programs in the Psychology Services Center. His area of specialization is police psychology, focusing on the challenges and problems of emergency first responders.                
Dr. Van Hasselt has published over 200 journal articles, books, and book chapters including many on the assessment and treatment of interpersonal violence, crisis response, hostage negotiation, and police stress and mental health.  He has also presented over 200 papers, workshops, and seminars at psychology and law enforcement conferences.  Much of this research has involved collaborations with the FBI's Crisis Negotiation and Behavioral Science Units.  Dr. Van Hasselt is co-developer of the FBI's Global Hostage-Taking Research and Analysis Project (GHosT-RAP), which is studying the motivations and tactics of hostage takers internationally.  He is also currently involved in the development of the Long-Term Evaders (LOTES) Project with the Behavioral Analysis Unit of U.S. Marshals Service.  The goal of this endeavor is to determine strategies utilized by criminals who have effectively managed to evade apprehension for extended periods of time.  In addition, Dr. Van Hasselt currently serves as Editor-In-Chief for "Aggression and Violent Behavior:  A Review Journal", and "Journal of Child and Adolescent Substance Abuse".  For 25 years he served as Editor of the "Journal of Family Violence".               
Dr. Van Hasselt served as a part-time police officer with The City of Plantation Police Department for nearly 20 years in order to advance collaborative research, teaching, and service.  In this capacity, he is a member of the Field Force Unit.  Most notably, he co-founded the Department's Crisis Response Team (CRT), and continues with the unit in the role of Training Coordinator and Team Member.  Because of his extensive work with CRT, Dr. Van Hasselt was recently given the Distinguished Service Award, one of the highest commendations given by the Plantation Police Department.  Dr. Van Hasselt is also the Team Psychologist for the Hostage Negotiation Unit of the FBI Miami Field Office, and the FBI National Crisis Prevention and Intervention Program.  As a Team Psychologist for the latter, he has assisted in dealing with numerous critical incidents involving Bureau personnel. This included the space shuttle Challenger disaster where he was part of the crisis response team led by the FBI.  He also provided critical incident debriefings and counseling to FBI and other law enforcement personnel who were involved in the immediate aftermath of 9/11, and the subsequent Anthrax case in Boca Raton.   Dr. Van Hasselt is an instructor for Broward County's Crisis Intervention Team (CIT) that provides advanced training to police personnel in dealing with the mentally ill.  He has been involved in CIT since its inception nearly a decade ago.  Dr. Van Hasselt has received numerous commendations and letters/certificates of appreciation from law enforcement agencies over the years for his teaching and training activities. Of importance is his high level of inclusion of students in the training and research.
Dr. Van Hasselt has been involved in numerous teaching activities at NSU, including psychology courses in the clinical psychology and mental health counseling programs and training and supervision in psychological assessment and treatment strategies of students in his clinics (Family Violence and Adolescent Drug Abuse Prevention and Treatment programs). In addition, Dr. Van Hasselt provided assistance in the development of the NSU Criminal Justice Institute (CJI), one of the first sustainable cross disciplinary programs at NSU. As such, he was one of the original online format instructors. He developed the core course (Social Administration in Criminal Justice), and the Behavioral Science Track offered by CPS in that program.  Dr. Van Hasselt has been an Instructor at the FBI National Academy in Quantico, Virginia, the Broward County Police Academy, and CJI's Executive Leadership Program for law enforcement.  He has also provided training to police hostage negotiators and crisis responders for many years.  These efforts have included doctoral candidates both as supervised co-instructors, as well as role players in scenario-based trainings.  Dr. Van Hasselt was also instrumental in the development of "Memorandum of Understanding" agreements to establish collaborative training and research efforts with the FBI's Behavioral Science Unit and the U.S. Marshals Service Behavioral Analysis Unit.  Many of Dr. Van Hasselt's students have gone on to highly successful careers in Federal and local law enforcement agencies (FBI, U.S. Marshals Service, NSA, CIA, NYPD, San Antonio Police Department, Arizona State Police, Las Vegas Police Department), Federal Correctional Settings, and the military.
His many achievements are too numerous to mention. His work reflects a high level of scholarly productivity and he has opened new national pathways for students, developed unique collaborations, and brought innovative projects that have benefited NSU. He has taught in traditional, weekend and online formats where he is highly regarded for developing specific skills and experiences needed in the workforce.  He has exemplified a "One NSU" perspective, bringing recognition to the university and our faculty and students from the community. He had advanced scholarship in a much needed area.
We are honored to celebrate this special award with him and his family and the students, faculty, and alumni with whom he works!