Professor passionate about teaching, therapy
Scott Simon Fehr's journey has included going from NSU student to professor
Scott Simon Fehr, Psy.D., has come a long way from the New Jersey horse farm he grew up on or the Colombian island where he lived for a year without electricity or running water.
Fehr, a part-time College of Psychology faculty member, has taught group therapy for decades, but he originally intended to have his head in the clouds.
"I wanted to be an astrophysicist," he said. "I was very shy around people, so I thought spending my days in the stars would be very nice."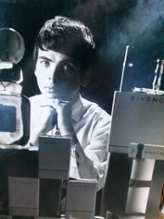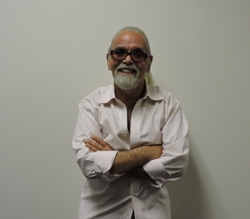 Early Days
Fehr's career trajectory changed at 22 when he entered psychoanalysis, in part because of his shyness. His psychoanalyst saw something that he did not and suggested he enter the psychology field instead. Fehr credits psychoanalysis with helping him open up and become more actively involved in class discussions. However, when his psychoanalyst fell ill, he lived with her during her final month of life. Her death was a devastating loss, so in 1975 he left New York City and ended up on the Colombian island of San Andrés.
As one of three English-speaking Americans on the 10-square-mile island, Fehr fell into teaching English at an all girls school. Despite having no teaching experience, he taught his students by taking them on field trips around the island and pointing out the names of things in English. After a year on the island, Fehr's career path changed once again during a nighttime walk.
"I had a moment one night, and I knew it was time to go back," Fehr said. "I had to finish my undergrad."
Journey to Nova
Fehr ended up in South Florida and attended classes at then-Nova University, where he earned his Bachelor's degree in psychology in 1977. He continued his education at Nova, earning a Master's degree in 1979 and his Psy.D. in 1982. During his time as a student, Fehr worked in the VA system, but he later found his groove in private practice with his wife Ellen, a LMHC.
"Group psychotherapy is like a microcosm of society," Fehr said. "A good group is heterogeneous, and people are learning how to relate, feel comfortable, and disclose."
After years in private practice, Fehr decided to give back to NSU and became a part-time faculty member in 1993, teaching group therapy.
Bady Quintar, Ph.D., is in the special position of having Fehr be both a former student and colleague.
"He was a very bright student," said Quintar, who had similar praise for Fehr's work as a therapist. "He is a person who has deep convictions about what he does."
Current student Shana Tauber said that Fehr's teaching approach has changed her career goals as she seeks a degree in the Mental Health Counseling program. Fehr informally conducts his class like a group therapy session, with students taking turns talking about themselves.
"It makes it easy to open up and trust and prepare for the real world," Tauber said. "He's the best professor I've ever had."
Upon graduation, Tauber said she intends to work with criminals and is already researching internship sites that offer group therapy programs.
Former student Wendy Milton had a similar experience. "It's the closest thing to being in clinical practice," she said. "It shows how group therapy is more about social skills and relationships. Sharing is healing."
Rachel Konnerth, a former student, believes the class and Fehr's approach have much to offer for prospective students.
"If you can be open, honest, and willing to experience something new, the class will help you to grow exponentially," she said.
Writing
In between private practice and teaching, Fehr jumped into writing with the 1999 publication of his first book, "Introduction to Group Therapy: A Practical Guide."
"I couldn't find a book that I would've read as a student, so I wrote the book I would've liked to read," he said.
Fehr has since written "Group Therapy in Independent Practice" and "101 Interventions in Group Therapy," which was just updated to its second edition in 2016. Fehr's next task is revising and updating "Introduction to Group Therapy" for its third edition. Fehr's work has taken him around the world to lecture in countries like Greece, Turkey, Costa Rica, and Colombia - but he turned down an invitation from Oxford University because he dislikes cold weather.

"How many people get to say that they've turned down Oxford?" Fehr said.
Family and Therapy
Fehr took on an entirely different challenge 15 years ago when he began counseling a 20-year-old-man named Klif, who hailed from a Louisiana family with 13 children.
"In the first session, I thought to myself, 'this guy doesn't need therapy, he needs a family,'" he said. "I saw in him a big heart, and very sweet. And undiscovered by others, high intelligence."
The Fehrs took Klif in and adopted him. Fifteen years later, he is entering the psychology field and recently received his Master's degree in Mental Health Counseling from NSU.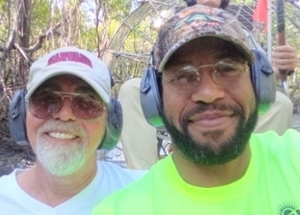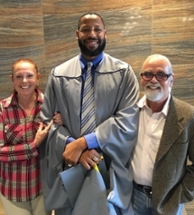 "He's going to be a spectacular therapist, and I hope he becomes a really profound example for the black community," Fehr said.
Fehr maintains a balance between teaching, writing, and private practice. He has no plan to stop, citing Dr. Quintar as the example he wants to follow.
"I love group therapy. It's always new and different. It draws out my creativity, because you engage people. You've got to get people rolling with each other," he said.