Clinical Psychologist publishes thriller novel
Debut novel inspired by real event
A psychologist and his wife receive a series of mysterious letters from an anonymous sender. For College of Psychology Associate Clinical Professor Leonard Schnur, Psy.D., it's both a real event that happened to him and the inspiration for his debut novel, Inexact Vengeance.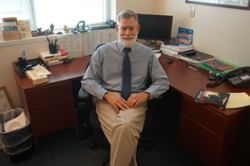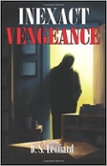 Schnur, an NSU alum, has been working in the field since 1980 at clinics, hospitals and in private practice.
"I wanted to serve the community and help others," Schnur said of his attraction to the psychology field. "It's a privilege and honor to get to know someone and hear their life story. You look at their life and try to understand together their life better and then try to address or resolve a complex set of emotions, issues or problematic behaviors."
Schnur has maintained a private practice in Plantation since 1989, and it was after 9/11 that he began receiving a sporadic series of anonymous letters sent to his home. The letters contained a mix of veiled threats, phrases from poems and songs, and in one case, hockey tickets. Schnur was never able to determine who sent the letters, and they ceased coming after a year.
Although the story ended there for Schnur, the idea stuck with him as the beginning of a novel.
"What if I turned it into a story that upset someone's stable and steady life?" he said.
Thus began the story of Inexact Vengeance's protagonist, Nathan Stern, Ph.D. Progress was slow due to several factors, including balancing writing with running a private practice and training and teaching at NSU, which Schnur joined in 2004 to train psychology practicum students, interns and post-doctoral residents.
"I wanted to help students become the best practitioners and give back by sharing my experience and knowledge," Schnur said.
Schnur said his students engage in valuable training and learning while helping the community.
"It's experience that you can't get in class," he said.
Schnur's calm nature is reassuring to both students and staff, said Associate Clinical Professor and Director of Clinical Services Ana Martinez, Psy.D.
"He brings to clinical training the comprehensive real life issues that the community faces," she said. "He trains students to provide service to the community."
By 2006, Schnur had completed about 100 pages of a draft before putting the manuscript aside for several years. He later returned to the book and completed it in 2013, at which time he began searching for a literary agent. After a long process, Schnur decided to go the route of self-publishing, both in print and digital. He used the pseudonym D.S. Leonard to separate his fiction from any academic writing and from his professional life as a psychologist.
Although protagonist Nathan Stern is a South Florida-based psychologist who receives strange letters, Schnur said that is where the similarities between him and his character end. However, Schnur said that in addition to telling a suspenseful story, he wanted to better educate and inform the public about psychology, therapy, and treatment, as well as to address relevant issues facing the practicing clinician.
"It was very important to have relevant information about psychology embedded in the book," he said.
Martinez was pleased to see Schnur exploring the world of fiction, since an academic usually writes a nonfiction book focusing on their research.
"It's nice to see this other side," she said. "I never knew he had an interest in writing this way and telling a story."
Having worked on Inexact Vengeance for so many years, Schnur said he was happy to finally see it completed and in print.
"It's a good feeling. There's a feeling of accomplishment and closure," he said.
However, even with a feeling of closure, Schnur isn't done yet with Nathan Stern and is already at work on a sequel. He dedicates blocks of time to writing to maintain progress, but has no plans to turn to writing full time and will continue to balance it with training, teaching and private practice.
"I'm not yet ready to retire from professional practice or retire my character, Dr. Nathan Stern," he said.
Inexact Vengeance is available in both print and digital from Amazon and Barnes & Noble.