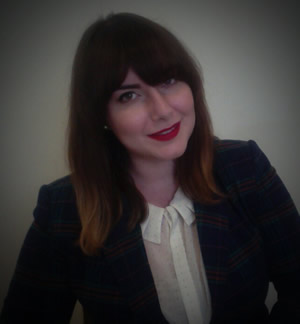 Alumna Samantha Domingo was making a difference in her field even before she completed a doctoral degree in psychology at NSU's College of Psychology.
Domingo, the recipient of the 2015 Robert D. Weitz Psychology Award, was a second-year graduate student at NSU when she began collaborating to create an iPhone app designed to help young adults change unhealthy alcohol use.
"The integration of behavioral medicine into health care is an extremely important area and one I'm passionate about," said Domingo, who completed her Psy.D. in 2015 after earning master's and bachelor's degrees in psychology at NSU. She is currently participating in a post-doctoral rotation at the Cleveland Clinic.  
"My training experiences have focused on providing evidence-based treatment to assist patients in making behavior change for substance abuse problems, medical treatment adherence, weight management, sleep, and smoking cessation.
"I also wanted to find a way to help fill in the gap. There are a high percentage of young adults who don't seek treatment for alcohol use problems due to stigma, lack of accessibility to treatment, or beliefs that their problems are not severe enough."
Domingo began developing the app when she was a trainee at NSU's Healthy Lifestyles Guided Self-Change Clinic, which incorporates evidence-based treatments to help people make changes in their lifestyles to improve their emotional and physical health.
"It occurred to me that many of the tools we used in our clinic to help our clients could be translated into an app," Domingo said. "I started paying attention to the apps out there designed to help people change health behaviors, but none of those available seemed to have empirical support."
Domingo took her idea to one of her doctoral advisors, Linda Sobell, Ph.D., professor and associate director of clinical training at the College of Psychology and co-director of the Healthy Lifestyles Guided Self-Change Clinic.
"Samantha and another student approached me with the idea of developing an iPhone app to help young people change their alcohol use," Sobell said. "The app, known as iSelfChange™, used an evidence-based approach. We were awarded [an NSU] President's Faculty Research and Development Grant (PFRD) for that very purpose.
"The study found that young adult drinkers who received the app significantly reduced their drinking."
The app has been well-received and the results of the research have been presented at national conferences, Domingo said, adding that she wants to expand the project so that the app is more widely known.
Domingo's passion for research began as an NSU undergraduate and continued through her doctoral training. She earned a master's degree in clinical psychology at NSU after graduating magna cum laude with a bachelor's degree in psychology in 2008 when she was honored as an outstanding student of her class.
Domingo credits her achievements to faculty mentors including Linda Sobell and Mark B. Sobell, Ph.D., professor, and Jaime Tartar, Ph.D., associate professor, at the College of Psychology. "What is unique about NSU is that you find faculty and staff who are truly passionate and committed to their work preparing students for successful careers.  
"Every experience I've had in this field has promoted my professional and personal growth in the most unexpected ways. These collective experiences have shaped my way of thinking in ways I did not imagine before," said Domingo, whose hands-on learning included a doctoral psychology fellowship in 2014 at Yale University School of Medicine, Psychiatry, and Behavioral Medicine Service.
"Samantha demonstrated a serious commitment to the profession of psychology early in her graduate training," Sobell said. "Besides her clinical acumen, she has shown a strong research presence early in her career. She displays a maturity beyond her years, as well a professional demeanor, judgment, and commitment in all that she undertakes."
Domingo's future goals include a clinical practice, teaching, and continuing research. "My new position at Cleveland Clinic allows me the opportunity to do all three, which I am very excited about," she said.