Modern NSU lab focuses on collaborative approach
College of Psychology faculty part of computational lab
The corner lab on the fourth floor of NSU's new Center for Collaborative Research (CCR) looks like the headquarters of a Silicon Valley startup, but it's actually studying conditions like Gulf War Syndrome and chronic fatigue syndrome.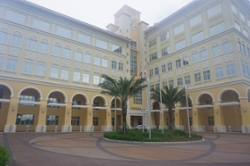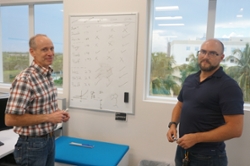 The Clinical Systems Biology Group is part of the NSU Institute for Neuro-Immune Medicine, which is also housed in the CCR. The computational lab does not see patients and instead builds computer models of the body that describe how different systems self-regulate.
"It gives us a complete look at how different systems talk to each other," said Assistant Professor Travis Craddock, Ph.D., of the College of Psychology and also the group's associate director. "We can predict how regulation works, and how it can fail."
The group's mission is to directly impact the standards of clinical care, said Gordon Broderick, Ph.D., a former College of Psychology professor who started the group and served as its first director until 2017.
"You have to understand the world that clinicians live in and the constraints that they have to work with," he said. "What is invasive? What's not invasive? How hard it is to get certain types of data?"
The lab, like the rest of the institute, was originally located in the neighboring University Park Plaza, but moved to the new facility in late 2016. The institute was created in 2012 by Professor Nancy Klimas, M.D., of the College of Osteopathic Medicine. Klimas also serves as the institute's director. Through various research efforts, the institute receives funding from the U.S. Department of Defense, the National Science Foundation, the National Institutes of Health, and the U.S. Department of Veterans Affairs.
"We're taking complicated illnesses and trying to understand how they persist, how to intervene, and how to push things back to normal," Klimas said.
Craddock and Broderick worked closely to create an open space that encourages collaboration. They took general inspiration from open workspace concepts used by Silicon Valley companies.
"A cubicle farm is limited and not very inviting," Craddock said. "Our space is functional and doesn't feel stifling."
The open space features two rows of desks that anyone can sit at, and the ends are writable surfaces that can be used to jot down equations when inspiration strikes. The lab features a teleconferencing space to collaborate with colleagues around the world.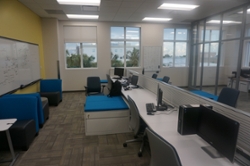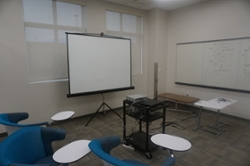 The lab's modern approach is what attracted research assistant Hooman Sedghamiz to both the U.S. and NSU. Originally from Iran, Sedghamiz completed his master's degree at Linköping University in Sweden. Sedghamiz was drawn to biomedical engineering after his grandfather had a heart attack.
"I want to use my engineering skills to save lives and improve lives," he said.
Working in computational lab has the advantage of studying models of body systems with many variables that can be tweaked, all without having to impose any risks on human or animal research subjects. The lab's work is part of translational research, an interdisciplinary field that focuses on improving healthcare.
"Basic science is fine, but how can this help people?" said Associate Professor Barry Nierenberg, Ph.D., of the College of Psychology. "There's a new layer of what we need to understand about people, which is the mechanism by which the emotional state translates to the physical."
Nierenberg thinks the Clinical Systems Biology Group is well-positioned to carry out its mission in its new space.
"It furthers the best mission of science, which is to push the frontiers of knowledge," he said. "You need the right equipment to do that, and they've got it."