Retired police officer uses psychology training
Assisted with response to 9/11 in New York
Howard Rudolph's psychology training was put to the test in the immediate aftermath of the Sept. 11, 2001 terror attacks.
At the time, Rudolph was a Broward Sheriff's Office deputy who had earned a degree in Mental Health Counseling from Nova Southeastern University's College of Psychology (then known as the Center for Psychological Studies). He traveled to New York to provide counseling for the Port Authority of New York and New Jersey police, first responders, and construction workers at Ground Zero working on recovery and cleanup.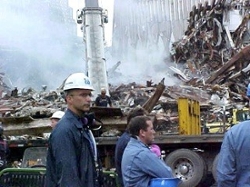 Helping those workers required a flexible approach.
"Nobody knew what to expect. You go with what you think works best," he said. "You give them a phone to call their family, a bottle of water, or a granola bar. Some talk and open up, or take a minute to escape."
Compartmentalization was key to dealing with such an enormous loss of human life.
"You do the best that you can to maintain a check on reality," Rudolph said.
Rudolph had the highest praise for the police officers, firefighters, veterans and construction workers at Ground Zero. "They're the real heroes."
Although Rudolph did not know it at the time, working at Ground Zero would have a lasting impact on his life.
A native of New York, Rudolph served as Military Police in the U.S. Army before coming to South Florida and joining the North Lauderdale Police Department and later BSO. Rudolph held multiple positions at BSO and decided he wanted to find another way to help people.
"We're called for Baker Acts and dump people in a facility," he said. "I wanted to take it a step further, to talk to a person and get through to them."
Rudolph came to then-Nova University and walked into the office of Professor Frank DePiano, Ph.D., founding dean of the Center for Psychological Studies, explaining that he wanted a degree but did not have the money to pay for it. He offered to do physical work and other office tasks, and to his surprise, an agreement was reached.
After becoming a Licensed Mental Health Counselor, Rudolph used his new skills on the job when responding to calls where mental health issues were involved and quick decisions were needed.
"It's more tools in the box that you can grab for," he said.
College of Psychology Professor Vincent Van Hasselt said Rudolph has used his experience as a deputy and education to help others.
"He has put himself in some difficult positions, but always with the goal to help his law enforcement colleagues," Van Hasselt said. "I don't know anyone who has tried to help his colleagues more than Howard Rudolph."
In 2005, Rudolph went to Biloxi, Miss., to provide counseling service after Hurricane Katrina devastated the Gulf Coast. The scene included scores of destroyed houses, with rescuers attempting to reach families stuck in attics.
The path of Rudolph's life changed five years ago when he was diagnosed with chronic obstructive pulmonary disease, or COPD, as a result of the hazardous materials he breathed in at Ground Zero in 2001. Rudolph retired from BSO in 2013 and has had to adjust to his new life, which includes quickly losing his breath and being hypersensitive to perfumes, cleaning fluids and other chemicals. He carries an oxygen tank in a bag at all times in case he needs it in an emergency.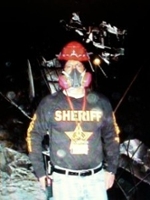 "My biggest fear is that I can't catch my breath," he said.
Rudolph receives support from his wife Sue, who survived both breast cancer and a brain tumor. His two service dogs Zeus and Athena are his constant companions, although Zeus was recently diagnosed with cardiomyopathy. Alexander, his son from a previous marriage, is studying social and behavioral sciences at Seton Hall University in New Jersey.
"Howard's a good man with a great heart," Sue Rudolph said. "Zeus brings him a lot of comfort and is like a life raft."
Although limited by his condition, Rudolph occasionally provides counseling when receiving referrals from other people. He also presents as a guest speaker in Van Hasselt's Police Psychology Seminar course.
"The students love him," Van Hasselt said. "I hope there are more opportunities at NSU for him to work with us."
Rudolph has also invested time over the last two years customizing his Jeep to memorialize 9/11, veterans, PTSD, and his dogs.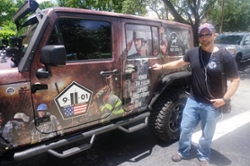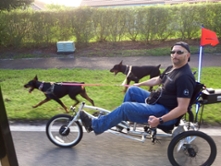 "You don't just remember people once a year," he said.
His Jeep attracts attention when he frequents the Davie location of Mission BBQ, a patriotic-themed restaurant chain popular with veterans and law enforcement. In keeping with his mission of honoring others, during one visit he thanked a blind Korean War veteran, who was pleased to hear simple words of thanks.
Despite his declining health, Rudolph said that even if he had foreknowledge of the personal impact of going to Ground Zero, he would still do it anyway.
"I can't turn my back on someone in need," he said. "I'm not a hero, just an average guy who got an excellent education."