College of Psychology alumna part of Colorado taskforce
New state law changes handling of mental health commitments
A College of Psychology alumna and adjunct professor contributed to mental health legislation that was recently signed into law in Colorado.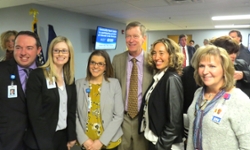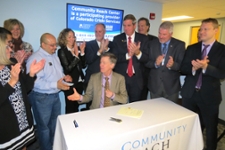 Abigail Tucker, Psy.D., was part of a state task force investigating the mental health needs of people in jail. Before the current law, people held on mental health civil commitment could be placed in jail or a correctional facility without criminal charges. The issue of overrepresentation of people with mental health issues in jail was jointly investigated by the Colorado Commission on Criminal and Juvenile Justice (CCJJ), the Mental Health Holds Task Force and the Equitas Foundation. The CCJJ drafted legislation that featured input from law enforcement, healthcare providers, policymakers and people with personal experience in the jail system.
Colorado Gov. John Hickenlooper signed the bill into law on May 17. When the law goes into effect on May 1, 2018, it will provide alternative treatment options for local law enforcement agencies and rural communities. Among the law's provisions, first responders will be able to divert people with mental health issues into the healthcare system.
In addition to working at a community mental health center, Tucker also teaches in the college's online Forensic Psychology M.S. program.