College of Psychology SGA President nominated for STUEY award
Also involved with on campus student organization
Carolina Barbeito performs a balancing act that includes the Clinical Psychology doctoral program and its practica, working as a teaching assistant, serving as president of the college's SGA and participating in a psychology student organization.
Now she can add something else to that mix: a nomination in NSU's 20th annual Student Life Achievement Awards, commonly known as the STUEYs. Barbeito is competing with 14 other nominees in the Student of the Year category. Winners will be announced during the STUEY ceremony on March 27.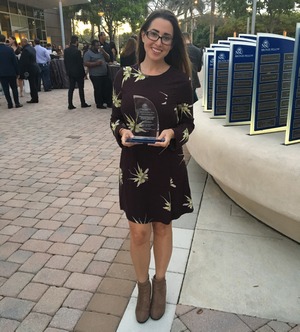 The nomination came as a surprise.
"I think of a lot of my peers, and initially I was like, how did I get it over these other people who I feel are just as deserving, if not more so," she said.
Originally from Argentina, Barbeito has spent most of her life in South Florida. Barbeito said her interest in psychology was sparked by an interest in what drives and inspires people. She was torn between the clinical and neuroscience paths, but ultimately decided that she wanted to work directly with clients.
"It's a way to give back to society," she said. "Psychology has a lot to offer to the world."
Barbeito's chosen concentration is in child, adolescent, and family psychology. In the first of three practicum assignments, she worked at the Institute for Child & Family Health. As part of the assignment, Barbeito worked with parents to help them implement changes at home in response to their children having behavioral issues at school. The experience provided a real world test of what she learned in her course work.
"It's one thing to learn theories on paper, but it's another to work with kids and families," Barbeito said. "You have to step up to the plate and grow as a clinician."
Her second practicum at NSU's Biofeedback and Health Psychology Center sees her working with adults to help them manage ongoing health concerns. Outside her practicum, she works as a teaching assistant for a course in the College of Dental Medicine, teaching interpersonal skills rooted in psychology to third year students.
When Barbeito started the Clinical Psychology program, she decided to become involved with the Student Government Association to get to know her peers and faculty. She now serves as president of the SGA, as well as the social media chair for the Student Organization for the Advocacy of Psychology (SOAP).
Out of all her experiences at NSU, Barbeito highlights the sense of community on campus and the lifelong friendships forged in the program.
"I can't imagine getting through everything without the friends I've made in the program," she said.
After completing her doctorate, Barbeito said she envisions working to advocate for reforms in the school system and providing psychological intervention training for teachers.