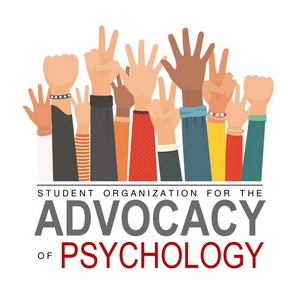 The Student Organization for the Advocacy of Psychology (SOAP) at Nova Southeastern University's College of Psychology seeks to inform students of the nature and importance of advocacy by providing tangible opportunities for students to work toward forwarding the field of psychology. The organization seeks to educate others about the field of psychology through internal and external advocacy endeavors.
SOAP functions as an active and involving organization in that student members are given practical opportunities to advocate for the future of our field. Students may participate in a variety of advocacy events, such as the annual Public Policy Advocacy Trip to the Florida State Capitol in Tallahassee. During this trip, students are encouraged to schedule meetings with legislators regarding bills that relate to the field of mental health. Students are given the opportunity to attend a training hosted by the Committee for the Education of Exceptional Students (CEES) designed to educate and prepare members for the legislative process. Additionally, SOAP hosts a weekly Civil Discourse event where students are able to discuss relevant and polarizing topics in a respectful and professional environment.
SOAP also provides extensive research opportunities for its members. With a total of 17 poster acceptances for the 2019 APA Conference, SOAP paves the way for members to learn fundamental aspects of research while also investigating important disparities regarding mental health and public policy.
Given the deficits of advocacy training within the doctoral curriculum, SOAP functions to train and prepare students for advocacy engagement.