Psychology professor receives community service award
Recognition for efforts following Parkland shooting
College of Psychology Associate Professor Peter Caproni, Ph.D., recently received a 2018 Excellence in Community Service Award from NSU.
Caproni was part of a team of College of Psychology faculty and graduate students who responded to the Feb. 14, 2018 shooting at Marjory Stoneman Douglas High School in Parkland, where 17 students and staff were killed by a former student. The NSU team also worked with counselors and social workers from Broward County Public Schools.
"We spent about a week doing debriefing, and supportive counseling and risk assessment with many staff as well as middle school students who were affected right next to Parkland," said Caproni, of the Department of Clinical and School Psychology.
Caproni said he was moved by the experience.
"I took away a great deal of respect for the kids - their resilience, their strength, their ability to try to grow from such a horrible experience," Caproni said.
The President's Awards for Excellence in Community Service "recognize superior professional engagement activities in the community" and encourage community service, since "community" is one of NSU's eight core values. During a ceremony at the NSU Employee SharkFest on Jan. 11, Caproni received his award from NSU President and CEO George L. Hanbury II, Ph.D.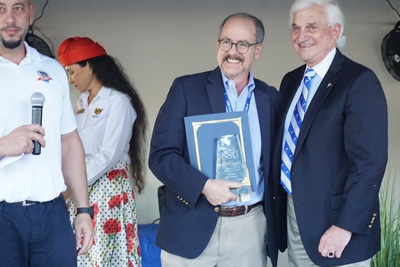 Following his experiences at Parkland, Caproni wrote a paper for the National Association of School Psychologists on how a graduate program in school psychology can provide leadership in a community. The letters he received in response to the paper were heartening.
"The award doesn't much matter at this point, but thank for you for it anyway," he said.
Click to learn more about the college's doctoral and specialist programs in School Psychology.