Pioneering women's advocate Lenore Walker retires from NSU
Plans to focus on research and writing
Although Lenore Walker, Ed.D., has retired as a full-time faculty member from NSU's College of Psychology, her retirement promises to keep her even busier.
"I'm at the age where I want to do some other things," Walker said. "I want to continue my research, and begin writing fiction."
Walker, who joined NSU in 1998, retired over the summer following a June reception in her honor at the NSU Art Museum in Fort Lauderdale. The event attracted faculty, students, alumni and even NSU President George Hanbury.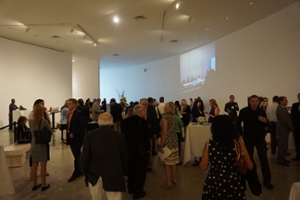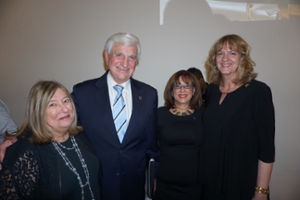 "I was so proud and honored to see so many graduates and people from the community," Walker said.
The day after the reception, Walker received an award during the celebration of the 20th anniversary of Broward County's Mental Health Court. Judge Ginger Lerner-Wren said that Walker was recognized for her support of the court, including creating doctoral internships and conducting lectures on the court's approach to psychology and the law.
"Lenore's impact is immeasurable," Lerner-Wren said. "Her work transcends every boundary in the law, psychology and how the legal system responds to domestic violence through her work on the Domestic Violence, the Cycles of Violence and the Battered Woman Syndrome."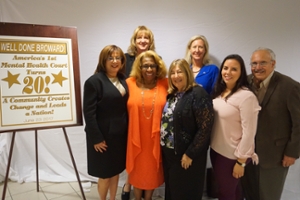 Walker's work has also been recognized at NSU, where she was named the College of Psychology's Professor of the Year for 2015-16.
Walker has 20 nonfiction books to her name, and her landmark book The Battered Woman Syndrome was updated to its fourth edition in 2016. However, moving into fiction marks a new direction for her writing.
"I've wanted to do this for a long time," she said.
Walker enrolled in a writing course for mental health professionals that instructs them on how to create characters and situations that are amalgamations of real people and cases without violating confidentiality.
Nonfiction work will also keep Walker busy - she has multiple projects, including editing a book with former student Giselle Gaviria on sex trafficking, as well as another project on forensic psychology with her husband and colleague, David Shapiro, Ph.D.
Walker's connection to NSU will endure both with a future appointment as Professor Emeritus and the establishment of a scholarship to assist students interested in studying gender violence. (Click here to donate by selecting "Walker Fund" from the menu.)
"If you don't make something a priority, it doesn't get done," Walker said about initiating the scholarship. "I believe in giving back."
Walker said she also plans to travel in her free time.