HPSO was created to provide NSU College of Psychology graduate students with the opportunity to work as mentors for adolescents or young adults within the university and the community. The program will provide graduate students with extended experience in working as mentors of undergraduate psychology students, while shaping their own leadership skills and providing a much-needed service as role models for their younger peers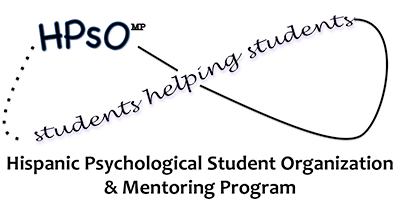 Educate and prepare students in the undergraduate psychology program for the challenges of graduate school.
Provide to the undergraduate students information, referrals, or resources that will facilitate their application process into graduate school.
For mentoring relationships with middle and high school language minority students in the community in order to promote opportunities for higher education.
Provide opportunities for students to form meaningful and trusting relationships with graduate peers in hopes of increasing their likelihood of choosing to further their education.
Provide graduate student mentors with training and opportunities to lead and form relationships with language minority high school students and undergraduate psychology students.
How to become a member:
Please contact us if you would like to receive more information about HPSO or would like to become an active member of the organization. Executive board positions will be available at the beginning of the academic year.