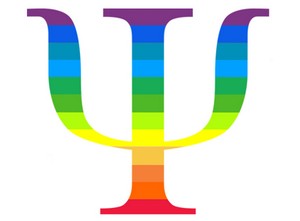 PRIDE (Psychological Recognizing Intersectionality, Diversity, and Equity) is committed to promoting a welcoming climate for students with minoritized identities, with a focus on sexual/affectional (e.g., lesbian, gay, bisexual, queer, questioning, asexual) and gender (e.g., transgender, Two-Spirit, non-binary, genderqueer, intersex, agender) identities, and non-minoritized students who are interested in working together to achieve a more comprehensive understanding of the LGBTQ+ population. Through an inclusive lens that considers intersecting identities and systems of oppression, PRIDE strives to enhance training and research in LGBTQ+ counseling and psychotherapy to promote health equity. Formerly known as Psychological Readiness Integrating Sexual Minorities (PRISM) and the Gay-Straight Student Alliance (GSSA). As part of its mission PRIDE seeks to:
Provide an advising and support service for sexual and gender minoritized students, including those with multiple minoritized identities.

Provide heterosexual and cisgender students with a better understanding of the needs, assessment, and psychotherapy with the LGBTQ+ population.

Encourage research in LGBTQ+ issues.

Represent the College of Psychology at national and international conventions in the specific area of LGBTQ+ counseling and psychotherapy.

Provide in service colloquia and other seminars in the area of LGBTQ+ counseling and psychotherapy.
Assist the Director of Academic Affairs and the Director of Clinical Training in modifying and augmenting professional training in the area of LGBTQ+ counseling and psychotherapy.
Provide outreach volunteer services in order to assist the local LGBTQ+ population.
Consistent with its mission, PRIDE has also become active in various community service venues. For example, PRIDE was a co-sponsor and members served as volunteers at the SunServe Social Services Center. This organization holds an annual GLBT family conference entitled "Valuing Our Families." PRIDE members have also volunteered their time at the Poverello Center (a local HIV/AIDS community based food bank and thrift store) and at the Fort Lauderdale Gay and Lesbian Community Center (GLCC).
PRIDE encourages everyone to attend its meetings.